Venice's best transportation value is the traghetto, a public gondola ferry. Traghetti are similar to privately rented gondolas, but you'll pay only €2 to cross the Grand Canal at one of the half-dozen ferry points between the railroad station and the Campo del Traghetto near St. Mark's Square.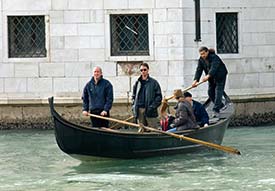 ABOVE: A traghetto crosses the Grand Canal. INSET BELOW: A fisheye view from inside a gondola ferry.

The ride is short, but the experience is memorable--especially if you emulate the Venetians by standing up during the crossing. For more information and photos, see our Traghetto article.
External Web links
Official Gondola Site
Learn about the gondola's history, or assemble a bibliography of books (mostly in Italian) about gondolas and Venice. The site also discusses the traghetti or gondola ferries across the Grand Canal.
Official Gondola Tariffs (Comune di Venezia)
Use the numbers on the City of Venice's gondola page as a starting point for negotiating with gondoliers. If you're lucky or it's out of season, the gondolier may be happy to take you for the official rate.
The Gondola in Venice
This article from VeniceWord, a media service in Venice, describes the history of the gondola and current construction rules.
The Gondola Maker
Laura Morelli has written an historical novel about a gondola maker who "restores an old gondola with the dream of taking a girl for a ride." (The novel has been praised by Publishers Weekly and by Francis Mayes, author of Under the Tuscan Sun.)
For well-heeled tourists in a hurry:
Hotel Cipriani's 'Gondola Massage' veniceforvisitors.com
Are you pressed for time (but not for money) and stressed by a tight vacation schedule? Get a soothing spa treatment and see the sights in one two-hour session.