Gelato in Venice
Gelato, the Italian ice cream, is one of the best food bargains in Venice. For €2 or less, you can buy a cone or cup with two scoops of tasty gelato made with milk, sugar, and flavorings that range from fresh fruit to coffee, hazelnuts, or tiramisú.
If the thought of clogging your arteries with cholesterol makes you feel guilty, take heart: Gelato typically has less than half the butterfat content of Anglo-Saxon ice cream, so you can eat twice as much before your blood vessels are blocked. [Disclaimer: The previous statement is literary hyperbole, not legitimate medical advice.]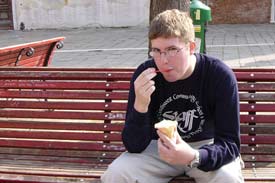 ABOVE: An American visitor enjoys limone gelato from Il Doge on the Campo Santa Margherita.
Gelaterie are scattered throughout the city, so you're never far from an inexpensive ice-cream fix. Like the product they sell, gelato vendors come in several flavors:
Take-out windows or shops, which serve impulse buyers and hungry pedestrians.

Gelato freezer cases in bars and cafés.

Sit-down cafés where you can order gelato, sundaes, and other concoctions by the bowl or glass.

The best gelato comes from artigianale or artisanal producers who make fresh gelato every day on the premises, but there's no need to be obsessive about labels: Any gelato is better than none, and if you want something even better, you can always try the next gelateria and the one after that.
Tips for buying gelato:
When ordering from a take-out counter, ask for a cono (cone) or coppa (cup) and indicate the flavors or number of scoops that you want. (Pointing is acceptable, or see Pauline Kenny's "All About Gelato" for a gelateria vocabulary list.)

Don't order more than two scoops in a cone (especially in warm weather), because gelato melts more quickly than butterfat-rich American or British ice cream does.

In a café that has table service, don't buy from the take-out counter or bar and then sit down at a table. (That's true whether you're buying gelato, a sandwich, or anything else.)
For illustrated mini-reviews of famous or favorite gelato shops, see page 2 of this article.
Next page: Mini-reviews of gelaterie
---
---
The premier travel-planning site
for Venice, Italy since 1997

---

Too many bridges, too little time?
Choose from handpicked Venice hotels (in all price ranges) within 0, 1, or 2 bridges of airport buses, taxis, trains, cruise piers, and airport-boat stops. We show maps, directions, booking links, and hotel Web sites.
» Click for easy-to-reach hotels
---
---
Venice for Cruisers:

---

Need a car in Europe?
Auto Europe guarantees the lowest rental rates for standard cars, sports cars, SUVs, luxury cars, chauffered sedans, and RVs. Its Web site also has driving information for 38 countries.
If you live outside the EU, a tax-free Renault or Peugeot tourist lease can be cheaper than renting. Minimum driver age is 18, there' s no upper age limit, and rates include insurance. See: Short-term car leasing.
---
Our blogs:

---