Generator Hostel Photos and Video
From: Generator Hostel Venice (Ostello Venezia)
by Durant Imboden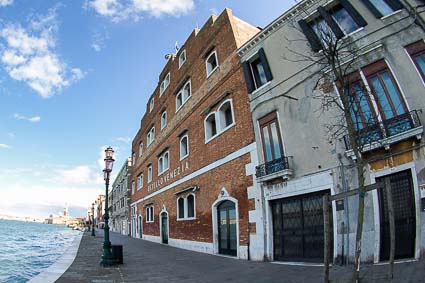 The Generator Hostel Venice, a.k.a. the Ostello Venezia, is on the island of La Giudecca, facing the Giudecca Canal and Venice's centro storico or historic center.

---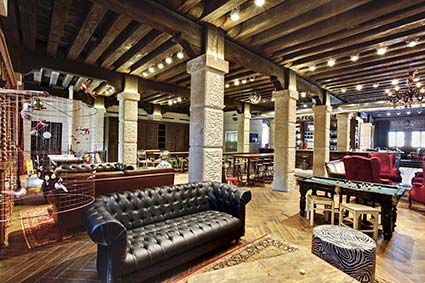 The hostel's lobby would do justice to a four-star hotel, with plenty of seating and a design motif that honors the building's history as a granary.
---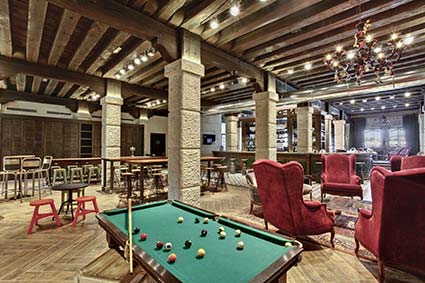 There's even a pool table where you can attempt to hustle your fellow guests.
---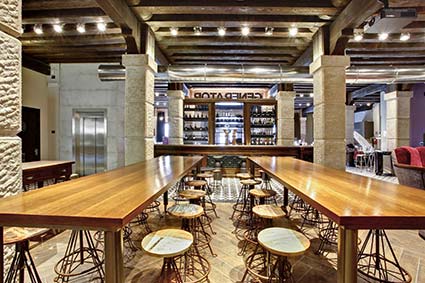 The bar is open in the evenings, but you can buy snacks from vending machines at any hour of the day. (From 7 to 10 a.m., an inexpensive buffet breakfast is served.)
---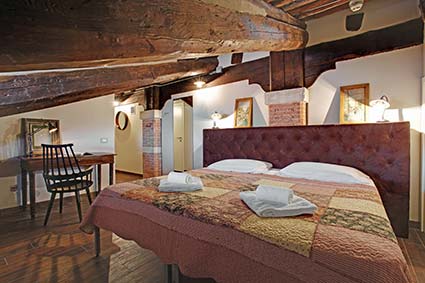 Accommodations include dorms and private guestrooms--including this room under the hostel's roof beams, which offers dramatic views of passing boat traffic and central Venice.
---
This YouTube video was taken from a No. 2 vaporetto after its departure from the Zittelle waterbus station. The boat passes the Ostello Venezia, a.k.a. the Generator Hostel, just before the one-minute mark.
(The video is worth watching because it shows the walking route you'll take to reach the hostel along the waterfront after arriving at Zittelle by vaporetto or airport boat.)
Interior photos © Generator Hostels Ltd.