Murano Tourist Information
and Guidebooks
From: Murano, the Glass Island

Tourist information
Murano was absorbed into the municipality of Venice in 1924 and is represented by the Venice Tourist Board. The island is small, so you'll find most of the information that you need in this 11-page guide or in any comprehensive Venice guidebook.
If you want a map that's more detailed than the Murano map in this Web travel guide, check your guidebook or see our review of Venice street maps that include the island of Murano.
Murano glassmaking information and courses
To learn more about Murano glass production, visit the industry association's Web sites at www.promovetro.com and www.muranoglass.com.
If you're seriously interested in glass, you can take classes at the Abate Zanetti Glass Center or read about the Experimental Glass Station on Murano. Another option is a 3- to 14-day mosaics class in Venice at Orsoni, which has been making glass and gold mosaics since 1888.
Guidebooks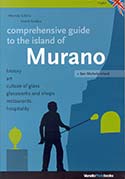 Most Venice guidebooks have short chapters or sections on Murano. Still, for in-depth advice on the island and its glassmakers, there's no substitute for Michela and Nicoló Scibilia's Comprehensive Guide to the Island of Murano. This recently-published guidebook has a list price of €19,90, is available in several languages (including an outsanding English translation by Giles Watson), and is easy to find at Venice bookstores and tourist shops.
The Scibilias' 162-page book discusses the island's history, the history and techniques of glassmaking, tourist itineraries, the leading glass factories and workshops (arranged by type of production), and hospitality. The book is richly illustrated with glass photos, aerial pictures, and maps. It's well worth buying even if you aren't planning a trip to Murano but are interested in Murano glass.

We can also recommend Gianfranco Toso's Murano: A History of Glass, which was published in 2002 by Arsenale Editrice of Venice. The 190-page book is printed on quality paper and filled with beautiful color and black-and-white photographs. The price is downright cheap at €9,00. In Venice, look for Murano: A History of Glass at museum gift shops, larger bookstores, Amazon.com, or the publisher's own store (Bookshop Arsenale Punto Libri, San Pantalon, Santa Croce 29).
Another book to consider is Carl I. Gable's Murano Magic, which is based on content that formerly existed on Mr. Gable's Murano Magic Web site.

One of our favorite Venice coffeetable books, Venice Master Artisans by Cristina Gregorin and Norbert Heyl, has profiles of leading Murano glassmakers. (See our illustrated review.)
Finally, don't miss Venice (U.S. title: The World of Venice), by Jan Morris (formerly James Morris). The noted British travel writer's entertaining blend of history, social commentary, and personal narrative is the definitive "must read" introduction to Venice and Venetians. The author's comments on Murano glass and factories are well worth reading.
Next page: Murano glass repairs
---
---
---
Top photo copyright © Alistair Scott.
The premier travel-planning site
for Venice, Italy since 1997

---

Too many bridges, too little time?
Choose from handpicked Venice hotels (in all price ranges) within 0, 1, or 2 bridges of airport buses, taxis, trains, cruise piers, and airport-boat stops. We show maps, directions, booking links, and hotel Web sites.
» Click for easy-to-reach hotels
---
---
Venice for Cruisers:

---

Need a car in Europe?
Auto Europe guarantees the lowest rental rates for standard cars, sports cars, SUVs, luxury cars, chauffered sedans, and RVs. Its Web site also has driving information for 38 countries.
If you live outside the EU, a tax-free Renault or Peugeot tourist lease can be cheaper than renting. Minimum driver age is 18, there' s no upper age limit, and rates include insurance. See: Short-term car leasing.
---
Our blogs:

---