San Clemente Palace Hotel
Page 9
Continued from page 8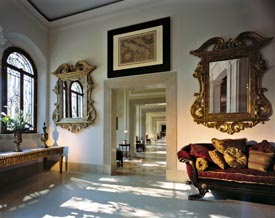 ABOVE: Lobby of the San Clemente Palace.
How to book a room or suite
To check prices, read guest reviews, or make a reservation, see the San Clemente Palace page at our booking partner, Venere, which is Italy's leading discount reservations service. (The hotel also has its own Web site that's worth checking for special offers, wedding packages, etc.)
Update: The San Clemente Palace Hotel closed late in 2012. In September, 2013, Turkey's Permak Group acquired the hotel and announced plans to add new facilities. The hotel is expected to reopen in 2014.
Back to: San Clemente Palace- Page 1
---
---
---