---
The Venetian Lagoon
Page 2
Continued from page 1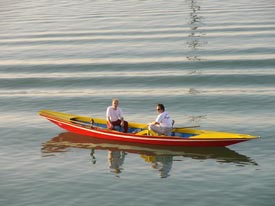 ABOVE: A boat near the island of San Clemente.
Health hazards, old and new
In earlier times, the Lagoon's marshy environment gave rise to malaria and other diseases. Today, the health hazards have done a turnabout: the threat is now from man to the Lagoon.
Industrial plants at at Marghera, on the mainland near the causeway to Venice, has dumped chemical pollutants into the Lagoon over the last several decades. Increased traffic by tankers and other large ships has added to the problem. Agriculture deserves much of the blame for the algae that clogs the lagoon during the summer months, since rain often washes chemical fertilizers into the Lagoon. This is an especially severe problem in the marshy areas known as the laguna morta ("dead lagoon"), which aren't rinsed by the Adriatic tides.
The Municipality of Venice is making efforts to reduce pollution, including the use of buffer strips to capture agricultural nutrients with trees and shrubbery along the edges of the Lagoon. Scientists are also trying to determine how a treatment plant might reduce nitrate and phosphate deposits in the lagoon. In the meantime, the Lagoon continues to suffer from increases in algae, mosquitoes, and other consequences of industrial pollution, laundry detereents, and fertilizer runoff.
Touring the Lagoon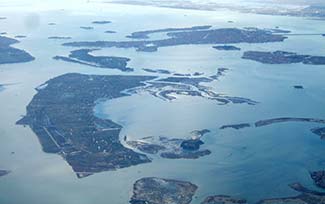 ABOVE: An aerial view of the Venetian Lagoon.
If you fly into Venice, Italy's Marco Polo Airport and the weather is decent, you'll get a fascinating aerial view of the Laguna Veneta--including glimpses of brick houses and hunting lodges that sit on tiny patches of dry land at high tide.
For a more intimate view of the Lagoon, take the Alilaguna airport boat from airport to the Piazza San Marco instead of a land bus or taxi, or go to Burano and Torcello on public transportation.
Read our Venice Islands Tour article and see our Vaporetto Routes article to learn about water buses that serve the outer reaches of the Lagoon.
Also see our article about Chioggia, a fishing port at the southern end of the Lagoon, which has an historic center with canals plus the modern beach and boating resort of Sottomarina.
Back to: Venetian Lagoon - Page 1
---
---