Venezi'Arte Bead Workshop
Page 3
Continued from page 2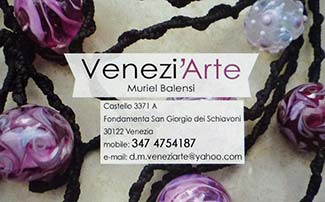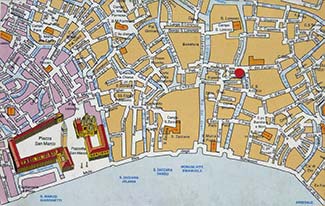 ABOVE: The front and back of Muriel Balensi's Venezi'Arte business card.
Directions and maps
Venezi'Arte is on the Fondamenta San Giorgio dei Schiavoni in Castello.
From the Riva degli Schiavoni (the waterfront promenade to the east of the Piazza San Marco), head inland at the Calle de la Pietà (just east of the La Pietà/Santa Maria della Visitazione church) and follow the map above. For a larger version of the map that you can print, click here. (Another useful map is this one at a French-language travel site.)
The workshop is open Monday through Saturday from 10:30 a.m. to 1:30 p.m. and from 3 p.m. to 8 p.m., though hours may vary outside the main tourist season. You can call ahead locally at 347 4754187 or e-mail d.m.veneziarte [at] yahoo.com.
Back to: Venezi'Arte glass bead workshop
---
---