ABOVE: Lavanderia Stella is clean, well-lit, and convenient if you're staying in San Polo or central Dorsoduro.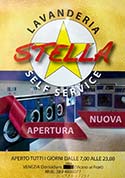 Lavanderia Stella is on the northern edge of Dorsoduro, in a tiny street below the Scuola Grande di San Rocco and the Frari Church.
It's open daily from 7 a.m. to 11 p.m., and it has both 9- and 24-kg washing machines along with dryers and a vending machine for detergent. (Instructions are in Italian only.)
The laundromat can be hard to find unless you're familiar with the neighborhood, so follow these directions:
From San Polo:

Find your way to the Scuola Grande di San Rocco, a building with a large white stone façade that's on the southern side of the Frari Church.
A few doors to the east of the Scuola is a passage labeled "Sotoportego S. Rocco." Enter the passage, go through the small square or campiello just beyond, and cross the canal. The laundromat is on the right side of the street, next to the bridge.
From Dorsoduro:

From the Campo Santa Margherita, head north in the direction of the Frari Church. At the San Pantalon Church, bear right and continue north to the next corner.
Turn right again and look for an electronics store with orange Vodafone signs in the window. Enter the passage next to the store and walk a few meters north. Lavanderia Stella will be on your left, just before the bridge. (The only sign is a large decal in the window.)