Venice Railroad Station Hotels
Page 4
Continued from page 3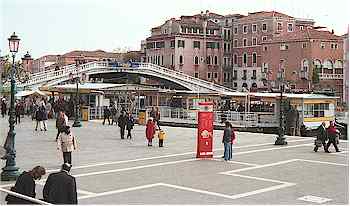 ABOVE: The Ponte dei Scalzi (the bridge in the background) crosses the Grand Canal from just beyond the square in front of the station.
Hotels across the Grand Canal
If you're traveling light, the sestiere or district of Santa Croce is worth considering. The neighborhood attracts fewer tourists than the area around the station, and it's especially convenient to major art museums and other attractions in Santa Croce, San Polo, and Dorsoduro.
Below are listings for hotels that are within a reasonable walk of the Ponte dei Scalzi (the bridge that crosses the Grand Canal near the railroad station). We've divided them into two groups, with the second being convenient to the Piazzale Roma. (Note: The new Calatrava Bridge is another way to reach the Piazzale Roma from the railroad station.)
Santa Croce East
The following hotels are in the neighborhood to your left as you leave the bridge. Warning: Streets can be confusing in this area, so buy a good map before setting out.
Carlton on the Grand Canal (4 stars)
This upmarket hotel has 150 air-conditioned rooms with a faux 18th Century Venetian decor. The deluxe doubles with canal views are worth the extra cost if you don't mind noise from vaporetti and other passing boats. Check lowest rates, reviews, and availability:

Hotel Carlton Capri (3 stars)
A 10-minute walk will get you to the Carlton Capri, assuming that you pay attention to your map. The hotel has single, double, and triple rooms, and rates include an American buffet breakfast. Check lowest rates, reviews, and availability:

Hotel Ai Due Fanali (3 stars)
This air-conditioned hotel is on the Campo San Simeone Profeta, a lovely little square with benches that face the Grand Canal. Breakfast is served on a roof terrace in warm weather. Read our illustrated review, which includes step-by-step directions to the hotel. Two excellent four-star hotels, the the Ca' Nigra Lagoon Resort and the Hotel Canal Grande, are also located on this delightful square within a five-minute walk of the railroad station. Check lowest rates, reviews, and availability:


Santa Croce West (Piazzale Roma)
The hotels below are on or near the fondamenta that runs along the Grand Canal to your right as you leave the Ponte dei Scalzi bridge. They're especially handy if you're connecting to or from the airport, because Venice airport buses depart from the Piazzale Roma nearby. Taxis and shuttle buses to the Venice Cruise Terminal also leave from the Piazzale Roma.