Venice Railroad Station Hotels
Page 4
Continued from page 3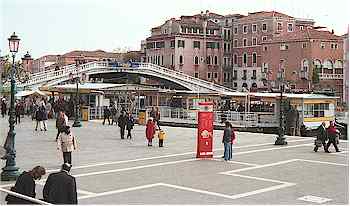 ABOVE: The Ponte dei Scalzi (the bridge in the background) crosses the Grand Canal from just beyond the square in front of the station.
Hotels closer
to the station:
Hotels across the Grand Canal
If you're traveling light, the sestiere or district of Santa Croce is worth considering. The neighborhood attracts fewer tourists than the area around the station, and it's especially convenient to major art museums and other attractions in Santa Croce, San Polo, and Dorsoduro.
Below are listings for hotels that are within a reasonable walk of the Ponte dei Scalzi (the bridge that crosses the Grand Canal near the railroad station). We've divided them into two groups, with the second being convenient to the Piazzale Roma. (Note: The new Calatrava Bridge is another way to reach the Piazzale Roma from the railroad station.)
Santa Croce East
The following hotels are in the neighborhood to your left as you leave the bridge. Warning: Streets can be confusing in this area, so buy a good map before setting out.





Santa Croce West (Piazzale Roma)
The hotels below are on or near the fondamenta that runs along the Grand Canal to your right as you leave the Ponte dei Scalzi bridge. They're especially handy if you're connecting to or from the airport, because Venice airport buses depart from the Piazzale Roma nearby. Taxis and shuttle buses to the Venice Cruise Terminal also leave from the Piazzale Roma.