Venice Carnival -
Carnevale di Venezia
Page 2
Continued from page 1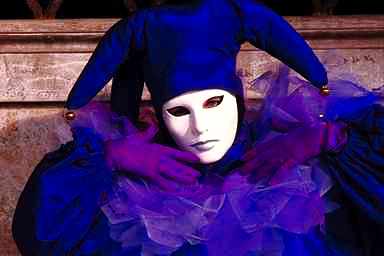 Today's Venice Carnival
Carnevale was a mere historical curiosity by the time William Dean Howells, U.S. consul to Venice in Abraham Lincoln's administration, wrote Venetian Life in 1865. He describes a Shrovetide ceremony dating back to 1162 that "was very popular and continued a long time, though I believe not till the fall of the Republic." More recent books, such as Time-Life's The Great Cities: Venice (1976) and Blue Guide: Northern Italy (1978) don't even mention Carnival.
In 1979, a group of foreign and other non-Venetian organizers attempted to revive Carnevale in the same spirit that provokes American historical societies to organize mock battles on Independence Day or to stage charity balls with Victorian costumes and themes. The modern-day merchants of Venice quickly recognized the economic potential of this Phoenix-like Carnevale, and a new tourist season was born. Lisa St. Aubin de Terán describes this phenomenon in her book, Venice: The Four Seasons:
"This recent revival of the ancient Carnival has not struck a chord in the hearts of the citizens, but it has touched a new button on the cash register. The whole festival has become an organized debacle that most Venetians suffer with ill grace."

"...The finale of fireworks over the lagoon packs the Piazza San Marco and the Riva degli Schiavoni so tightly that the oohs and aahs of admiration for the bombardment of noise and color is muted by the sheer crush. This last homage to the water is, perhaps, the one moment of real excitement of the whole affair. The mixture of splendid exploding rain and the crowd of over a hundred thousand people crammed into a small contained space make for a communal burst of adrenalin."
Next page: Practical advice, Web links
---
---
---
---
---
The premier travel-planning site
for Venice, Italy since 1997

---

Too many bridges, too little time?
Choose from handpicked Venice hotels (in all price ranges) within 0, 1, or 2 bridges of airport buses, taxis, trains, cruise piers, and airport-boat stops. We show maps, directions, booking links, and hotel Web sites.
» Click for easy-to-reach hotels
---
---
Venice for Cruisers:

---

Need a car in Europe?
Auto Europe guarantees the lowest rental rates for standard cars, sports cars, SUVs, luxury cars, chauffered sedans, and RVs. Its Web site also has driving information for 38 countries.
If you live outside the EU, a tax-free Renault or Peugeot tourist lease can be cheaper than renting. Minimum driver age is 18, there' s no upper age limit, and rates include insurance. See: Short-term car leasing.
---
Our blogs:

---