---
Venice Carnival Masks
Page 2
Continued from page 1
By Durant Imboden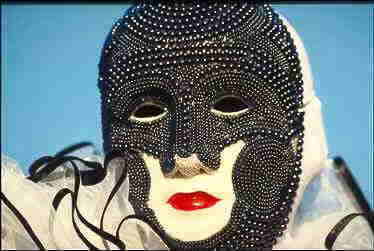 ABOVE: Beaded mask, using glass beads from the island of Murano. Elisabeth Vedrenne, author of Living in Venice, reports that the Baroness Nella Lopez y Rojo is the only remaining practitioner of this craft.
---
Today's Venetian masks serve two functions: as vehicles for self-expression and self-display during Carnevale, and as souvenirs or craft objects to take home as souvenirs of a Venetian trip.
Masks are easy to obtain in Venice. Street vendors sell them (especially at Carnival time), and you can buy anything from mass-produced paper or ceramic miniatures to handcrafted papier-mache and leather masks by skilled artisans.
If you're serious about buying a quality mask, you should visit one of the workshops where masks are made on the premises. Here are two that come highly recommended by the shopping experts:
Mondonovo
Rio Terra Canal
Dorsoduro 3063
Tel. 287 344
Frederic Vitoux, author of Venice: The Art of Living, says that Mondonovo "makes masks that are replicas of the old models, but also fills your most fanciful orders." (The shop is located near the Campo Santa Margherita and the Ca' Rezzonico stop on vaporetto line No. 1.)
Laboratorio Artigiano Maschere
Barbaria delle Tole
Castello 6657
Tel. 522 3110
This shop is near the SS Giovanni e Paolo church, inland from the Ospedale vaporetto station. It's one of the oldest maskmaking studios in Venice, and its owner comes from a family of puppetmakers. See page 3 for a link to a Web photo page that shows masks being made here.
Also visit the Web site of Tragicomica, a highly-regarded costumer and maskmaker.
Next page: Related articles and Web links
---
---
---
---
---