Walking directions to Best Western Premier Hotel Sant'Elena
Click button for lowest available rates and guest reviews:

ABOVE: The Hotel Sant'Elena, is four bridges and about 15 minutes on foot from the Arsenale airport-boat stop.. (The Sant'Elena vaporetto stop is close by.) MAIN PHOTO: The Hotel Sant'Elena's garden courtyard.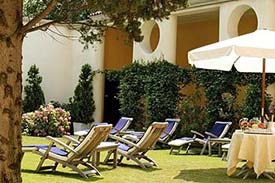 The Best Western Premier Hotel Sant'Elena is in a quiet, family-friendly residential neighborhood near the eastern tip of Venice's historic center. It's a relaxing 20- to 25-minute walk along the waterfront from the Piazza San Marco. The location may feel isolated in the colder months, but in summer, it offers quick access to Venice's Lido beach resort, which is only one vaporetto stop away from the hotel.
How to reach the Hotel Sant'Elena from the Arsenale airport-boat stop:
As you leave the boat pier, turn right and walk along the waterfront.

Cross the footbridge and keep walking past the Museo Storico Navale (Naval Museum) and the Hotel Bucintoro.

When you see a street (the Via Garibaldi) angling inland, bear right and continue along the water on the Riva dei Sette Martiri.

Continue walking past the Biennale grounds and the Giardini Publici (Public Gardens).

At the end of the park, follow the pavement's curve to a footbridge over another canal. Cross the bridge and head back to the waterfront.

Keep walking until you reach the Sant'Elena vaporetto stop (see map above). Turn left into the park.

Walk through the strip of park, and continue straight ahead to the residential section of Sant'Elena. Turn right, walk to the next corner, and turn left.

The Best Western Premier Hotel Sant'Elena is a large building of yellow stucco and brick, and it's just inland from the park on the Calle Buccari. (Zoom in on the map above for a closer view.)
From the Lido di Venezia:
Take the No. 1 vaporetto one stop to Sant'Elena, then head inland and follow directions 7 and 8 above.
Click button for lowest available rates and guest reviews:

---
---
---