About these Venice hotel pages:
We've included customized Google maps that you can zoom, rotate, or drag for better views.
If you see a conflict between our directions and a hotel's, rely on ours. (Hotel sites are often years out of date.) Ditto for maps: Our icons are hand-placed for accuracy, while GPS-based labels can be off by a street or more.
Finally, if you don't know the city's layout, see our Venice Orientation Map before booking.
Walking directions to
Hotel Carlton on the Grand Canal
Click button for lowest available rates and guest reviews:

ABOVE: The four-star Hotel Carlton on the Grand Canal

is a short walk from the train station, via the Scalzi Bridge.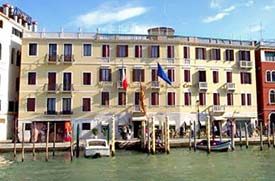 The Carlton on the Grand Canal is an elegant and traditional four-star hotel directly across the water from the Santa Lucia Railroad Station. It's easy to reach on foot, if you don't mind hauling your bags over the fairly steep and high Scalzi Bridge.
How to reach the Hotel Carlton on the Grand Canal from the train station:
Leave the station by main doors and steps--or by the side exit near Track 1, which is more convenient if you have wheeled luggage, a stroller, or a wheelchair.

Turn left and walk a short distance to the Scalzi Bridge, which crosses the Grand Canal.

Go over the bridge and turn right onto the fondamenta or waterfront sidewalk.

Walk past the domed church and the Hotel Antiche Figure to the Carlton on the Grand Canal, which you'll reach within a minute or two.
From airport buses and taxis in the Piazzale Roma:
(Scroll the map up and to the right to see the Piazzale Roma.)
Walk to the tree-lined side of the Piazzale Roma where a red-and-white crosswalk from the central bus area feeds into a sidewalk through the trees.

Go through the trees, past the vendor stands, to a low stone bridge.

Cross the bridge. On the other side of the canal, turn left and walk along the fondamenta or sidewalk by the park.

When you reach the corner, continue around to the right.

Beyond the park, you'll reach a second small bridge. Cross it.

Walk along the water past the Hotel Airone to the Carlton on the Grand Canal.
From the Marittima cruise terminals:
Take a free shuttle bus (if available), a taxi, or the People Mover elevated tramway to the Piazzale Roma. (The People Mover's glass-enclosed station is just beyond the port gates.)

Follow our directions from Piazzale Roma.
Click button for lowest available rates and guest reviews:

---
---
---