Campo Santa Maria Formosa
from: Fisheye Venice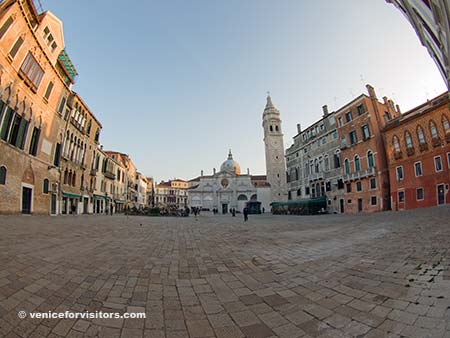 The Campo Santa Maria Formosa is one of the city's largest squares, but it has a friendly and unassuming neighborhood feel. It's the kind of place where you can buy flowers, duck children's soccer balls, stop in the church for a spiritual pick-me-up, or grab a cup of coffee in a bar frequented by locals. The streets leading off the square are filled with little shops and restaurants, some geared to residents and others catering to tourists.
Work on the chiesa began in 1492 (the same year that Columbus reached America), using the foundations of an earlier church. The belltower was added in the 1600s; look for the ugly stone face on one side of its foundations. Admission to the church is free with the Chorus Pass.
The Hotel Scandinavia faces the square and offers good value in the 3-star category. The family-owned hotel occupies a palace that was begun more than 1,000 years ago and took its present form in the 16th Century.
---
---
---
---