---

---
Accessible Venice
Disabled travelers are frequently intimidated by Venice. The city was built long before "equal access" became part of the architect's vocabulary, and the city is dotted with hundreds of bridges that require climbing and descending steps.
It's no wonder that many physically disabled tourists are tempted to skip Venice when traveling through Europe. And that's a shame, because it's certainly possible to enjoy Venice with a wheelchair, walker, or crutches if you know what to expect and plan your touring strategy accordingly.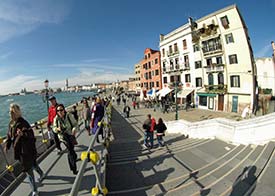 ABOVE: Venice's waterfront promenades (such as the Riva dei Sette Martiri, shown above) sometimes--but only sometimes--have wooden ramps on their bridges.
Step 1: Plan ahead.
Many hotels in Venice have elevators, but quite a few don't (especially in the lower price ranges). And in some hotels, you may have to wrestle your way up several steps just to reach the elevator. Because of this, it's a good idea to find out if a hotel is accessible before you make a reservation.
(See the Accessible Hotels in Venice article for listings of wheelchair-friendly hotels that are convenient to both ground transportation and the sights.)
The not infrequent acqua alta or "high water" between late October and early spring is another thing to consider. When high tides and winds in the Adriatic push water into the Venice Lagoon, the result is flooding of St. Mark's Square and other low-lying areas. Pedestrians can don rubber boots or step onto temporary wooden walkways, but if you're in a wheelchair, you could be stuck in your hotel for a few hours until the tide goes down.
Step 2: Visit the Tourist Office.
The Azienda di Promozione Turistica, a.k.a. the Venice Tourist Office, publishes free maps and brocures for disabled travelers. The tourist office's headquarters are in a freestanding white building by the public gardens just off the Piazza San Marco; you'll find branch offices in the Venice railway station, the arrivals hall at Marco Polo Airport, in one of the passages leading from the narrow or arcaded end of the Piazza San Marco, and various seasonal locations around town.
Important: The city's wheelchair lifts on a handful of bridges are no longer in operation (although they're still in place) so--contrary to what you may read in guidebooks--the tourist office can't lend you a key to use them.
Notes:
A few bridges, such as the Ponte delle Guglie (shown on the next page), have special half-height stairs that can be negotiated in wheelchairs. A sign warns that a companion is required--and after watching porters struggle with delivery carts on the bridges, we'd be inclined to second that precaution.

The railroad station has a long flight of steps leading down to the water. However, a sloping paved path connects the train platforms with the waterfront. See our page about handicapped facilities at Venice Santa Lucia railroad station.

Several years ago, the Venice city government announced a plan to install wheelchair ramps on 80 bridges in the historic center. Unfortunately, the ramps aren't available during the main tourist season: They're normally set up as temporary ramps for the Venice Marathon in October and removed in the spring (officially in May, but we've seen them disappear by April.)
Next page: Accessible transport, information resources
---
---
---

---
---

| Europe for Visitors - Home |
| Advertising, audience, disclosures, contacts |

Copyright © 1996-2017 Durant and Cheryl Imboden. All rights reserved.