---
---
ACTV Ticket Machines
Step 7
Continued from Step 6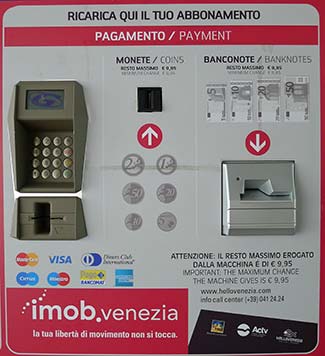 Step 7: Use a credit card, debit card, euro coins, or euro banknotes to pay for your ticket.

Once you've paid, the machine will print your ticket and deliver it (with a receipt and and any change that's due) in the slot below the touch screen and payment panel.
Note: If you've bought a carnet and the machine dispenses only one ticket such as the one shown here, don't worry: Your "biglietto ricaricabile" (rechargeable ticket) is a stored-value card that holds multiple fares.
Back to: ACTV Ticket Machines - Introduction
---
---
---
---
---