---
---
ACTV Ticket Machines
How to buy vaporetto tickets in Venice
ACTV, Venice's public-transportation authority, has installed multilingual ticket-vending machines at many vaporetto and motoscafo stops. Some of the machines are replacing manned ticket booths, while others are being used to supplement human ticket vendors.
From a traveler's point of view, the new ticket machines have two benefits:
They provide an alternative to standing in line at a crowded ticket window.

They operate 24 hours a day.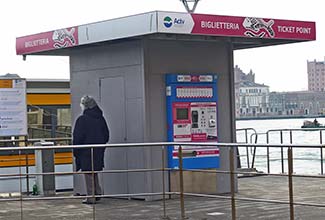 ABOVE: A ticket-vending machine has replaced the manned biglietteria at Venice's Zattere vaporetto stop.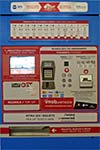 Although the machines look intimidating, they're fairly simple to use if you know what kind of ticket you want to buy. (One annoyance: As far as we can tell, there's no way to buy more than one ticket per transaction.)
On the following pages, we offer step-by-step instructions on how to use the new machines. To get started, go to Step 1 now.
Next page: Step 1
---
---
---
---
---