---
---
imob.venezia card (Cartavenezia)
Venice's stored-value transportation card
The price of a single vaporetto ticket in Venice is outrageous if you're a casual tourist: You'll pay a whopping €7,--, which is more than the cost of a pizza margherita in some restaurants.
The Venice Connected pass and the local transit authority's Venice Tourist Travel Cards are worth considering if you you're in Venice for a short time and plan to use the boats frequently, but they're expensive overkill for longer stays.
Fortunately, there's another alternative: the imob.venezia stored-value travel card, which is a successor to the CartaVenezia discount card that formerly was available only to residents of the Veneto region.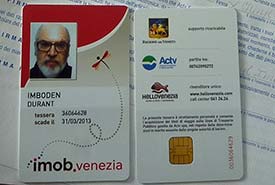 ABOVE: Front and back of the imob.venezia stored-value travel card.
As a tourist, you'll pay €40 for the imob.venezia card, but your card will be valid for five years, and you'll be able to add stored-value fares to the card whenever you're in Venice.
With the imob.venezia (which many Venetians and even the local transit authority's Web site still refer to as the "Cartevenezia,") you can save money in either of two ways:
By purchasing individual paperless waterbus "tickets" at the resident fare of €1,30 (or even less if you buy a carnet of 10 fares).

By purchasing a monthly or annual commuter pass, which offers even bigger savings to students and other visitors who use the vaporetti and motoscafi daily.
As a bonus, you'll be able to show your imob.venezia card when riding traghetti (gondola ferries) across the Grand Canal and pay the residents' fare of €0,70 instead of the tourist fare of €2,--.
Where to buy an imob.venezia card:
You can apply for an imob.venezia card at larger Hellovenezia ticket offices and licensed agents that offer the "Tessere Imob. (See the "Servizi e prodotti a pagamento" listings on this page.) We suggest using the main Hellovenezia/ACTV office at the Piazzale Roma, where you'll find a ticket counter inside the building.
In the following pages, we provide illustrated step-by-step instructions for buying the imob.venezia card at the main Hellovenezia office (a.k.a. the ACTV ticket office) in Venice's Piazzale Roma.
Next page: How to buy an imob.venezia card
---
---
---
---
---