For many foreign visitors, flying to Italy means booking a ticket to Milan or Rome. And that's a shame, because Venice's Marco Polo International Airport is often a more convenient gateway.
Why? Distance to the city center is one reason. The Piazzale Roma is just 20 minutes away by land taxi or airport bus, and the Lido, the Piazza San Marco, and other locations in the historic center are easy to reach via the Alilaguna airport boat.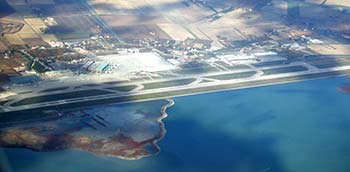 ABOVE: An aerial view of Venice's international airport, which is built on the edge of the Venetian Lagoon. INSET BELOW: An Emirates jet arrives in Venice, and a ticket counter for Venice's public bus and boat services.
Marco Polo Airport is also more manageable in size than its counterparts in Milan and Rome, although it can feel like a Third-World airport if you're departing on a weekend or on a day when thousands of passengers have been disgorged by cruise ships.
Consider yourself fortunate if you arrive or depart on a clear day, when views from the air can be breathtaking. You'll see the Dolomites, the Adriatic, and the Venetian Lagoon. You'll see land that's submerged at high tide, suggesting a Northern Italian version of Atlantis. And if you're on the right side of the plane, you'll see the city itself, with instantly recognizable landmarks like the Campanile di San Marco and the Grand Canal.
Arriving at VCE

If you're renting a car, you'll find rental counters in the arrivals lounge. Other services include free luggage carts, public telephones, baggage storage, toilets, tourist information, hotel bookings, currency exchange, and tickets for local and regional transportation. (See the links to the Marco Polo airport's Web site on the next page if you have questions about passenger services.)
For information on ground transportation, use the "Also see" navigation links below.
Warning: If you have a luggage problem, filing a claim can be a frustrating experience . Not long ago, one of our suitcases didn't arrive on an Air France from Paris, and we had to stand in line for more than three hours to make a report.