---

---
Venice Marco Polo Airport
Page 3
Continued from page 1
Departure tips
If you take the water bus or a water taxi to the airport, leave the pier and take the moving sidewalk to the terminal building. (Free luggage carts are near the boats.)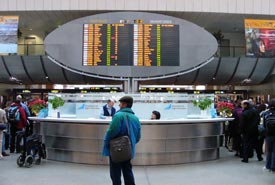 ABOVE: A large screen behind the information desk in the departures terminal tells where to check in for your flight.
Inside the departures lobby, you'll find limited seating and long rows of check-in desks to the left and right of the information counter and security gates. Each counter is assigned to a specific flight (shown on an electronic sign above the counter). If you don't see a counter for your flight, don't panic--it simply hasn't opened yet.
Warning: Like most airport terminals, Marco Polo was designed in an era of less intensive security procedures, and both ticketing and security lines can be horrendously slow during busy periods. On one recent Monday in late October, it took us an hour just to check in. We suggest arriving at least two and a half hours before your flight--or even earlier, if you're departing on a weekend, during high season, or on a transoceanic flight.

Once you get through security, Marco Polo's departures area is quite nice. You'll find bars and cafés, a gelateria, a good assortment of shops, and plenty of seating in an airy, modern, well-lit terminal.
Baggage storage
Look for the deposito bagagli, or left-luggage office, in the arrivals hall. To check hours and prices ahead of time, phone the Cooperativa Trasbagagli at 0412605043, scroll down to the bottom of this official page, or e-mail [email protected]
Airport Web site
Aeroporto di Venezia Marco Polo
Click the Union Jack for English-language information at the Venice airport's official Web site. If you have questions, see the airport's "Contact us" page.
Next page: Marco Polo Airport Aerial Photo Map
---
---
---

---
---

| Europe for Visitors - Home |
| Advertising, audience, disclosures, contacts |

Copyright © 1996-2016 Durant and Cheryl Imboden. All rights reserved.