---
Hotels near the Piazza San Marco
Page 2
Continued from page 1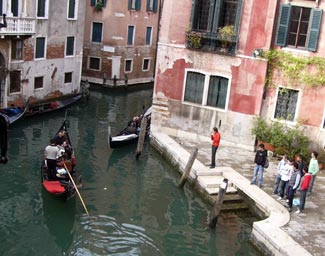 ABOVE: Some rooms at the three-star Hotel San Moisè overlook a canal that's frequented by gondoliers and musicians of the Gondola Serenade Tour.
West - Hotels toward the Accademia Bridge
Expensive hotels

One of the most conveniently located hotels in this neighborhood is the Luna Hotel Baglioni (5 stars), which is just off the western end of St. Mark's Square. The Luna is Venice's oldest inn, with a history that goes back to the time of the Crusades. Read our review of this intimate luxury hotel that attracts many repeat visitors from Europe and North America.
Europa & Regina (5 stars) is close by; this member of the Westin group occupies five connected palazzi next to the Grand Canal. The impressionist painter Claude Monet spent an autumn painting canalside views at the Europa & Regina (then the Hotel Britannia) in 1908.

Bauer Il Palazzo (5 stars) is a boutique hotel in an historic palazzo on the Grand Canal. Just behind is a slightly less expensive sister property, the Hotel Bauer (5 stars), which occupies a modern wing next to a canal that's popular with gondoliers. Amenities include an open-air rooftop hot tub where you can soak away aches from sightseeing.

Monaco & Grand Canal (4 stars) is just a short walk from the Alilaguna airport boat's pier. The hotel occupies a magnificent site where the Grand Canal feeds into St. Mark's Basin.
Moderate and budget hotels
Moving down the price scale, the Anastasia, the Torino, and the Firenze (all 3-star hotels) are in very convenient locations; the Firenze is only 30 meters from the Piazza San Marco. The reasonably priced Mercurio (2 stars) is just west of the square.
Two personal favorites are within five minutes of the Piazza San Marco:

The San Moisè (photo at left) is a block north of the Calle Larga XXII Marzo on a quiet street near the Kette (4 stars). We've stayed in both hotels and can recommend either, although the San Moisè may be a better choice during the warm months because it has a courtyard with tables for guests. (See our Hotel San Moisè review.)

Other moderately-priced hotels west of the Piazza San Marco include the Violino d'Oro, the Lisbona, the Bel Sito & Berlino, the Flora (which is featured in many guidebooks), and La Fenice et des Artistes. The slightly pricier Saturnia & International (4 stars, photo at right), the very popular Ala (3 stars), and the highly-rated Locanda Fiorita (1 star) are also reasonably convenient.
Peace and quiet on a private island
Finally, here's an upscale hotel that's worth considering if you want the convenience of easy access to the Piazza San Marco without the tourist crowds, or if you're interested in a Venice wedding:

The San Clemente Palace (5 stars) is a beautifully decorated 205-room resort hotel on a private 17-acre island in the Venetian Lagoon. Rooms are large, and rates are reasonable (especially by Venice standards) for a hotel in this category. The San Clemente Palace has a pool, tennis courts, a 3-hole golf course, and a 12th Century chapel for weddings, church blessings, and other religious services. A free private shuttle boat runs between the hotel and a pier near the San Marco Giardinetti airport-boat stop, with the trip taking about 20 minutes. (Read our San Clemente Palace review.)
Next page: North - toward the Rialto Bridge
---
---
---