---

---
Hotels near the Piazza San Marco
Page 3
Continued from page 2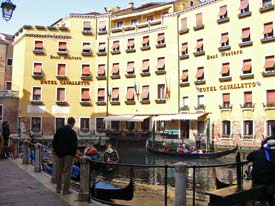 ABOVE: The four-star Albergo Cavalletto e Doge Orseolo is just a hop, skip, and a splash away from St. Mark's Square.
North - Hotels toward the Rialto Bridge
The streets just to the north of the Piazza San Marco are packed with shops, restaurants, and three- and four-star hotels. The area is busy even after dark, when locals and tourists go window-shopping.
Moderately expensive hotels
The beautifully situated Albergo Cavalletto e Doge Orseolo (4 stars, photo above) overlooks a fleet of gondolas on the Basino Orseolo, immediately behind the Piazza San Marco's northwestern corner and a few doors from Venice's Hard Rock Café. Accommodations at the Best Western affiliate range from single rooms to junior suites.

Donà Palace (4 stars) occupies a 16th Century Venetian Gothic building above the Piazza on the canal that leads south past the Doge's Palace. Rooms, junior suites, and suites are available, some with canal views, and rates tend to be a bit lower than at some other four-star hotels.

At the eastern end of the Piazza San Marco, the Concordia (4 stars) offers single and double rooms, some overlooking St. Mark's Basilica. (Click the thumbnail at right for a larger image; the Concordia is at the top left of the photo.)

Nearby, Al Ponte dei Sospiri (4 stars), which translates as "On the Bridge of Sighs," lies between the square at the side of the Basilica and a canal that's popular with gondoliers.
Midrange hotels
Is a four-star hotel beyond your budget? Try one of these moderately-priced properties:
Ambassador Tre Rose (3 stars) is immediately north of the Piazza. The hotel has 32 double, twin, and triple rooms, all with free Wi-Fi.

Best Western's Albergo San Marco (3 stars, photo at left) is just off the Piazza San Marco on the Calle dei Fabbri, a lively shopping street.
San Gallo (3 stars) is on a tiny square named the Campo San Gallo, a short block north of the archway near the Piazza San Marco's northwestern corner. Rooms range from singles to quads.
Alternatives within walking distance
If you're willing to walk a greater distance from the Piazza San Marco, the following hotels may be of interest. These hotels are roughly midway between the piazza and the Rialto vaporetto stop near the Rialto Bridge. It shouldn't take you much more than 10 minutes on foot to reach any of them, provided you don't get lost:
4 stars or equivalent: Bonvecchiati, San Marco Palace, Starhotels Splendid Suisse.
3 stars or equivalent: Alcyone, Al Gambero, Al Gazzettino, Antico Panada, Canaletto, Palazzo la Scala, San Zulian.
2 stars: Cà delle Acque, Orion.
1 star: Caneva.
Next page: East - toward Castello
---
---

---
---

| Europe for Visitors - Home |
| Advertising, audience, disclosures, contacts |

Copyright © 1996-2016 Durant and Cheryl Imboden. All rights reserved.