---

---
Hotels Near the Piazza San Marco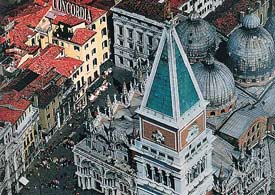 ABOVE: Some rooms at the four-star Hotel Concordia (sign at top left) face the Basilica di San Marco. Venice's Campanile, or bell tower, is in the foreground.
The Piazza San Marco is the focal point of Venetian tourism, and it's especially popular with first-time visitors.
From the trapezoidal plaza that Napoleon called "the finest drawing room in Europe," a tourist can visit St. Mark's Basilica, ascend the Campanile, admire the Torre dell'Orológio, visit the Museo Correr, tour the Doge's Palace, stroll the waterfront of St. Mark's Basin, catch a vaporetto, hire a gondola, sit in an indoor or outdoor café, feed the pigeons, buy souvenirs, window-shop for designer goods in the streets just off the square, or hang about and mill with the crowds.
Should you stay at a hotel near the Piazza San Marco? That depends on your budget. You'll almost certainly pay more for a room near the Piazza than you would at a hotel that's tucked away in a quieter and harder-to-reach neighborhood. Still, the added expense can be worthwhile, especially if you're in Venice for only a few days.
In this article, we've provided links for hotels that are within a short walking distance of the Piazza San Marco.
Most of these hotels are represented by Booking.com, our hoted partner, which offers "guaranteed lowest available rates" at thousands of hotels and vacation apartments in Europe.
We've organized the links by area: west toward the Accademia Bridge, in the busy shopping streets north on the way to Rialto, east toward Castello, and along the Riva degli Schiavoni on the waterfront overlooking St. Mark's Basin.
Tip:
When you've clicked a hotel name to learn more about the hotel, look for a "Hotel Reviews" tab on the Venere Web page.

If you're coming from Marco Polo Airport, see our Venice Airport Boat article. The boat arrives at the San Marco Giardinetti stop, which also is used by ACTV water buses.
Next page: Hotels west of the Piazza San Marco
---
---

---
---

| Europe for Visitors - Home |
| Advertising, audience, disclosures, contacts |

Copyright © 1996-2016 Durant and Cheryl Imboden. All rights reserved.