---

---
Traghetto Gondola Ferries
Page 2
Continued from page 1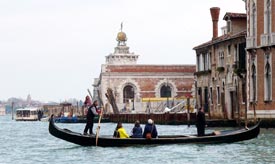 ABOVE: A boat crosses from the Campo del Traghetto in San Marco to the Calle d. Lanza in Dorsoduro.
How to ride a traghetto
Follow the yellow "Traghetto" signs to the nearest landing, which will be a small wooden pier along the edge of the Grand Canal. Boats normally shuttle back and forth almost continuously, so you shouldn't have to wait long. (But see our warning about sporadic service on page 1 of this article.)

When the traghetto arrives from the other side of the canal, board the boat and find a place to sit or stand. Face backward, because the boat will turn as it leaves the dock. (Venetians traditionally stand during the crossing, but you're welcome to use a seat or perch on the gunwales, and an oarsman may gesture for you to sit down if his last batch of tourists toppled into the canal.)

Hand your fare to the oarsman as you board or leave the boat. If you don't have exact change, try to pay with coins instead of banknotes.

Money-saving tip: If you've applied for and bought the VeneziaUnica Pass for Frequent Users, you can show the card and pay the local residents' fare of 70 cents. Otherwise, you'll be charged an outrageous €2,-- to cross the Grand Canal (which is still the cheapest, albeit the quickest, gondola ride in town).
Other practical advice
Don't try to board a traghetto in a wheelchair, with a baby carriage, or with heavy luggage. Instead, use the No. 1 vaporetto, which has a flat deck and is fully accessible.

Hours of traghetto service vary by route, season, and day of the week. Normally the boats are rowed back and forth across the Grand Canal from early in the morning until 7 or 8 p.m., or possibly a bit later in the summer.

One or more traghetto lines may be shut down for maintenance or construction at any given time, depending on the season. If you arrive at a traghetto platform and no boat is in sight, just do as the Venetians do and either take the vaporetto or save money by walking to the nearest bridge across the Grand Canal.
Related articles
Venice Travel Blog: Traghetto S. Sofia
This 4-minute video from our Venice Travel Blog shows how to board, ride, and disemark from a gondola ferry on the Grand Canal.
Venice Transportation Index
Get in-depth information on Venice airport boats and buses, how to use public transportation, gondolas, and more.
Back to: Traghetto - Introduction
---
---

---
---

| Europe for Visitors - Home |
| Advertising, audience, disclosures, contacts |

Copyright © 1996-2017 Durant and Cheryl Imboden. All rights reserved.