---

---
Traghetto
Looking for a cheap (if quick) gondola ride? Take a traghetto across the Grand Canal.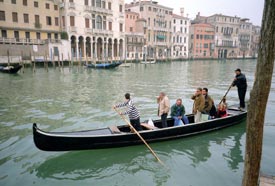 ABOVE: A traghetto ferries passengers across the Grand Canal. INSET BELOW: A Venetian mother and her daughter (wearing inline skates) wait to board.
By Durant Imboden
---
Warning: Service on Venice's traghetto lines has become increasingly sporadic in recent years. If you're lucky, you'll still find service on the line between Santa Sofia (near Strada Nova) and Pescheria (Rialto Food Markets), but the days of reliable traghetto service are drawing to a close.
---
Until 1854, the Ponte di Rialto was the only bridge across the Grand Canal in Venice. Even now, there are only four bridges along the canal's 2.5-mile (3.5 km) length. If you need to cross the canal and you aren't near a bridge, you have two choices:
Take the No. 1 vaporetto, which zig-zags from one bank to the other as it follows the Grand Canal, or better yet:

Head for the nearest traghetto pier and get rowed to the other side. As a tourist, you'll be expected to pay €2,-- (nearly three times the resident rate of 70 cents), but there is an unofficial workaround that sometimes works: See our "money-saving tip" below.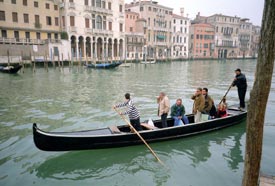 ABOVE: A traghetto ferries passengers across the Grand Canal. INSET BELOW: A Venetian mother and her daughter (wearing inline skates) wait to board.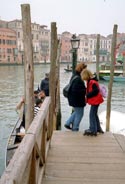 Traghetto (plural: traghetti) means "ferry" in Italian. On Venice's Grand Canal, traghetti are the passenger boats that cross the canal at seven points between the railroad station and St. Mark's Basin. The boats are large gondolas without bow decoration, brocaded chairs, and other luxury trimmings. They are rowed by two oarsmen: one who stands behind the passengers like a traditional gondolier, the other closer to the bow.
Most traghetti have been operated by the same families for generations. As recently as the 1950s, there were some 30 of these gondola ferry routes. Today, there are officially seven, although you'll be lucky if you find one or two operating at any given time:
Fondamente S. Lucia (in front of the railroad station) - Fondamenta San Simeón Piccolo

San Marcuola - Fóndaco dei Turchi (by the Natural History Museum)

Santa Sofia (near Ca' D'Oro) - Pescaria (fish market)

Riva del Carbòn - Fondamente del Vin

Sant' Angelo - San Tomà

San Samuele - Ca' Rezzónico

Campo del Traghetto - Calle Lanza (near the Salute Church)
The routes are clearly marked on any good street map of Venice (look for straight lines across the Grand Canal), and you'll often see yellow signs pointing toward the traghetto landings when you're walking through neighborhoods along the Grand Canal.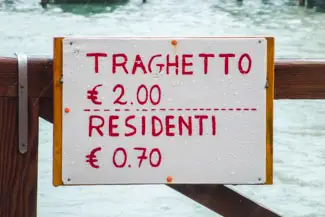 ABOVE: A sign at a traghetto pier shows the two-tired pricing scheme that went into effect in 2013.
How to ride a traghetto
Follow the yellow "Traghetto" signs to the nearest landing, which will be a small wooden pier along the edge of the Grand Canal. Boats normally shuttle back and forth almost continuously, so you shouldn't have to wait long. (But see our warning about sporadic service at the beginning of this article.)

When the traghetto arrives from the other side of the canal, board the boat and find a place to sit or stand. Face backward, because the boat will turn as it leaves the dock. (Venetians traditionally stand during the crossing, but you're welcome to use a seat or perch on the gunwales, and an oarsman may gesture for you to sit down if his last batch of tourists toppled into the canal.)

Hand your fare to the oarsman as you board or leave the boat. If you don't have exact change, try to pay with coins instead of banknotes.

Money-saving tip: If you've applied for and bought the VeneziaUnica Pass for Frequent Users, show the card. If you're lucky, you'll be charged the local residents' fare of 70 cents instead of tourist price of €2.
Other practical advice
Don't try to board a traghetto in a wheelchair, with a baby carriage, or with heavy luggage. Instead, use the No. 1 vaporetto, which has a flat deck and is fully accessible.

Hours of traghetto service are unpredictable at best. When they're operating, the boats are usually rowed back and forth across the Grand Canal from early in the morning until 7 or 8 p.m., or possibly a bit later in the summer. If you arrive at a traghetto platform and no boat is in sight, just do at the Venetians do and either take the vaporetto or save money by walking to the nearest bridge across the Grand Canal.
Related articles
Venice Travel Blog: Traghetto S. Sofia
This 4-minute video from our Venice Travel Blog shows how to board, ride, and disemark from a gondola ferry on the Grand Canal.
Venice Transportation Articles Index
Get in-depth information on Venice airport boats and buses, how to use public transportation, gondolas, and more.
---

---
---

| Europe for Visitors - Home |
| Contact information, disclosures, audience |

Copyright © 1996-2017 Durant and Cheryl Imboden. All rights reserved.