---

---
Venice Airport Hotels
Page 4
Continued from page 3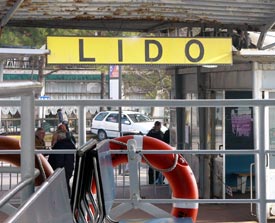 ABOVE: In summer, many Europeans stay on the Lido, Venice's island resort, which separates the Venetian Lagoon from the Adriatic Sea.
Hotels in other locations
Zattere. Airport boats (Alilaguna's Linea Blu) stop at Zattere, on the Giudecca Canal side of Dorsoduro, which is about 10 minutes beyond San Marco Vallaresso. Hotels nearby include:
Hotel La Calcina (3 stars), formerly the Pensione de Calcina, occupies the building where John Ruskin stayed in 1876. It's directly on the Zattere, overlooking the Giudecca Canal and the ships that pass by.
Pensione Seguso (2 stars) is next door to the Calcina. It offers traditionally-furnished single and double rooms, most with bathrooms in the hall).
Ca' San Trovaso is slightly inland from the Zattere. One- to three-person rooms are available, breakfast is brought to your room, and rates are quite reasonable for Venice.
Arsenale. Alilaguna's Linea Blu boats also stop at Arsenale, in the Castello quarter, on their way to and from the airport. Hotels in this area include:
Bucintoro (4 stars), next to the Naval History Museum on the waterfront.
Ca' Formenta (3 stars) on the Via Garibaldi, a major pedestrian street that angles inland from the waterfront.
Murano. The glassmaking island of Murano is between the Lido and Marco Polo Airport on several Alilaguna airport boat routes.
Travel time to the airport is only 30 minutes (allow an extra 10 minutes to reach the boat piers from the arrivals terminal via moving sidewalk.) See the Murano hotels page in our Murano Travel Guide for advice on reasonably-priced lodgings.
Lido. Venice's beach resort is also a residential suburb. It occupies a narrow strip of land that separates the Adriatic Sea from the Venetian Lagoon. Alilaguna boats stop here; see our main Lido Hotels page on our main site to select hotels near the boat station at the foot of Gran Viale S.M. Elisabetta.
Mestre/Marghera. See our Mestre Hotels page for listings of hotels in Mestre, on the Venetian mainland, a location that's convenient if you're on a tight budget or have a rental car that you plan to drop off at the airport on your day of departure.
(Our article lists several hotels directly across from the Mestre Railroad Station, where you can catch the ATVO "Fly Bus" to Venice's Marco Polo airport.)
Marco Polo Airport. The Courtyard by Marriott Venice Airport (4 stars), the Annia Park Hotel Venice Airport (4 stars), the Hotel Antony (4 stars), the Best Western Titian Inn (3 stars), and the Hotel Gironda Lagunare (2 stars) are close to VCE.
All five hotels offer shuttle service to or from the terminals, and they're also convenient if you need to drop off a rental car before checking in.
Treviso. Ryanair, Transavia, Germanwings, Wizzair, and Air Arabia use Canova Airport in Treviso, an historic city of canals that lies 30 km or 19 miles from Venice.
You can easily reach the airport with special Treviso airport buses from the Piazzale Roma. However, if you'd like to stay in Treviso, you'll find several hotels listed on the Treviso Hotels page of our main site.
Back to: Venice Airport Hotels
---
---
---

---
---

| Europe for Visitors - Home |
| Advertising, audience, disclosures, contacts |

Copyright © 1996-2017 Durant and Cheryl Imboden. All rights reserved.