---
---
Venice Connected
(formerly "Venice Card")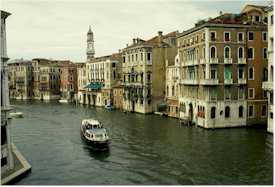 Until 2009, the Venice tourist authorities sold a pass called the Venice Card, which offered 3 or 7 days of ACTV public transportation and free use of public toilets. Higher-priced versions of the card included admission to city-owned museums, visits to Chorus Pass churches, and optional transportation between Venice's Marco Polo Airport and the city on the Alilaguna airport boat.
The Venice Card has been discontinued and replaced by a new product called Venice Connected, which offers many of the same services as the Venice Card with a more complicated pricing scheme.
With the new pass, you decide what services you want at the time of purchase (such as transportation, museum passes, and the use of public toilets), and you pay a price that varies according to to the time of your visit: Low/Middle Season, Middle/High Season, or Top Season.
To make matters even more complicated, the "seasons" vary not only by month, but also by day of the week. Since the pricing is both a la carte and date-sensitive, we can't tell you what you should expect to pay: The only way to check prices is to decide what services you want ahead of time and go through the step-by-step online purchase procedure.
Tips and warnings:
You'll save 15 per cent if you order the card online before your arrival, but to get the savings, you must pay and receive a voucher number at least 15 days before picking up the card in Venice.
One of Venice Connected's services that is worth investigating is the municipal Venice Wi-Fi Network, which you can access by the day, 72-hour period, or week. Rates are reasonable if you order the service from Venice Connected before your trip.

With Venice Connected, the clock starts ticking on all services when you collect the pass. If you don't plan to use ACTV vaporetti, visit museums, etc. right away, you might be better off buying airport ground transportation locally and picking up the Venice Connected pass only when you're ready to use it.

We've had several complaints from readers who have been unable to resolve problems with their online orders from Venice Connected. (Getting a refund from abroad can be a frustrating experience, even if you're lucky enough to succeed.)
Our advice:
Unless you want to plan every detail of your visit ahead of time--or unless you have a desperate need to jump to the head of the line at public WCs--you'll find it easier to simply buy a 12-hour to 7-day Tourist Travel Card from any ACTV ticket office, vaporetto ticket booth, or HelloVenezia office. This smart card, which works with the ACTV's new "imob" electronic readers, gives you unlimited public transportation on boats in the Venice Lagoon. You can then pay for museums and public toilets as you go (no pun intended).
Note: With ACTV's Tourist Travel Cards, the period of validity begins the first time you use the card for a vaporetto ride. So you can buy the card any time after your arrival in Venice and save it until you're ready to travel. (This makes the ACTV Tourist Travel Card a much better deal than Venice Connected if you don't plan to use water buses right away.)
Another option, the imob.venezia discount card for residents and visitors, can be a great bargain if you're staying longer than a week or two, or if you visit Venice regularly.
For more information on Venice Connected, see the Venice Connected Web site.
For current prices of ACTV Tourist Travel Cards, see our Venice Vaporetto and Bus Fares article.
---
---
---