---

---
Venice Cruise Terminal Hotels
Page 2
Continued from page 1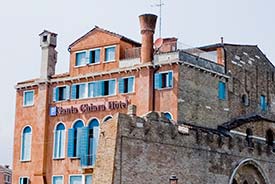 ABOVE: The Hotel Santa Chiara's location is hard to beat if you're burdened with heavy luggage: It's alongside the Piazzale Roma, where you can catch a shuttle bus or taxi to your ship.
Hotels near Piazzale Roma (for Marittima piers)
Several hotels are in the immediate vicinity of the Piazzale Roma, central Venice's closest point to the main cruise basin, Marittima. From Piazzale Roma, you can reach Marittima by taxi, with the inexpensive Venice People Mover, or--quite often--by free shuttle buses that go directly to your ship.
Hotel Antiche Figure (3 stars) overlooks the Grand Canal. Its location couldn't be better, and it has a top rating among guests who have booked through Venere. Singles, doubles, and triples are available.
Hotel Santa Chiara (3 stars) is also just off the Piazzale Roma, next to the Grand Canal. Some triples are available, and there's there's even a private car park.

Hotel Olimpia (3 stars) is a Best Western property. It's across a small bridge from the Piazzale Roma, and it has a private garden with beach umbrellas and deck chairs.
Ca' Doge is a "town house suites, 1st category" property, which corresponds to a 3-star hotel. The Ca' Doge offers free ADSL Internet access and has a parking garage.
The following hotels are within easy reach of the Piazzale Roma if you don't mind hauling your luggage around the corner or over a bridge or two:
Hotel Airone (2 stars) is down the steps from the Piazzale Roma and to the right, across a bridge and along a fondamenta or waterfront promenade. Some of the single and double rooms overlook the Grand Canal.

Alloggi Marinella (3-star equivalent), a personal favorite, has unusually high guest ratings. The inn's location is just about perfect: It's just a block from the Piazzale Roma, away from the parking garages and boat platforms but close enough for early airport-bus departures or catching a taxi to the cruise terminal.
The Alloggi Marinella also has a garden where you can sit and relax in warm weather. If your budget allows, spend a little extra for a superior room with a walled private patio.

Hotel Arlecchino (3 stars) is on the Fondamenta delle Burchielle, about 100 meters from the airport buses and taxis in the Piazzale Roma. Singles, doubles, triples, and quads are available.

Hotel Canal & Walter (3 stars) has 33 rooms, some overlooking the Grand Canal. One- to four-person rooms are available, and breakfast is served in the hotel's garden courtyard during summer.
Hotel Gardena (3 stars) is about three minutes from the Piazzale Roma, with two tiny bridges to cross, but you might think it's in a different world: The hotel is on a delightful neighborhood canal, and the cafés along the water are often filled with students and professors from the architectural university nearby.

Hotel Papadopoli Venezia (4 stars) is just beyond the public gardens that are reached via a footbridge from the Piazzale Roma.
The former Sofitel, which is now affiliated with the AccorHotels "Made in Italy" quality brand, is a good choice if you're looking for an upscale hotel with a bar, restaurant, concierge, and other services on the premises.

Hotel Abbazia (3 stars) is in a side street near the railroad station, making it a little more distant from the Piazzale Roma than some of the other hotels described here. (On the plus side, the new Calatrava Bridge to the railroad station is easy to cross with luggage.)
The Abbazzia occupies a former monastery, and some rooms face the large garden where breakfast is served in nice weather.
If you prefer to be a little more distant from the buses, boats, and bustle of the Piazzale Roma, you could try Alloggi Al Gallo, Hotel Al Sole (3 stars), the Carlton on the Grand Canal (4 stars), or a Venetian mansion that doubles as a boutique hotel, the Palazzo Odoni (3 stars). Please note that the term "distant" is relative: All of these hotels are within a five- to 10-minute walk of the Piazzale Roma, depending on your speed.

Or you could book a room at the Falier (2 stars, photo at left), which is a 10-minute walk from the Piazzale Roma but is handy to one of the liveliest squares in Venice, the Campo Santa Margherita. It's an appealing choice if you're traveling with nothing larger than a midsized wheeled suitcase.

Finally, if you don't mind walking across two small bridges, you won't go wrong with the cozy Ai Due Fanali the Ca' Nigra Lagoon Resort with its huge garden, or the Canal Grande. All three hotels are on the Campo San Simeon Grande, a lovely and peaceful little square where you can watch boat traffic on the Grand Canal.
Next page: Hotels near Piazza San Marco (for Marittima piers)
---
---
---

---
---

| Europe for Visitors - Home |
| Advertising, audience, disclosures, contacts |

Copyright © 1996-2016 Durant and Cheryl Imboden. All rights reserved.