---
---
Venice Cruise Terminal Hotels
Page 4
Continued from page 3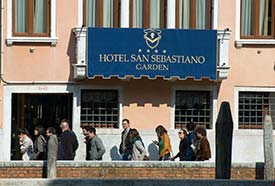 ABOVE: The Hotel San Sebastiano Garden is a short walk from the San Basilio pier.
Hotels near San Basilio and Santa Marta
The San Basilio quay and terminal building are at the foot of the Fondamente delle Zattere, a pedestrian promenade that extends all the way from the San Basilio vaporetto stop to the tip of Dorsoduro and St. Mark's Basin. (The Santa Marta pier, used by river vessels and other ships, is an extension of the San Basilio pier.) Consider yourself lucky if your ship is moored here, because the historic center is just across a small wooden footbridge from San Basilio.
For proximity to the San Basilio terminal, your two best choices are the Hotel San Sebastiano Garden (4 stars) and the Hotel Tiziano (3 stars). Both hotels are within a five-minute walk of the pier, with only one small bridge to cross. As a bonus, you can take a land taxi between the Marco Polo Airport and the San Basilio cruise terminal, which is convenient if you're traveling with heavy luggage.
Three other hotels are fairly close to the San Basilio terminal:

Antica Locanda Montin (2 stars) is a 12-room pension above the historic restaurant of the same name. The restaurant is a bit pricey; the Locanda's rates are more reasonable, although some rooms lack private facilities. Reserve far in advance if you want to stay at this simple but celebrated establishment.

Hotel Pausania (3 stars) occupies an atmospheric 14th Century Gothic palace near the Campo San Barnaba, where you'll find small restaurants, bars, shops, and the city's famous vegetable barge. The Campo Santa Margherita--one of Venice's liveliest squares--is also close by.
Casa Rezzonico (B&B) is a lower-priced neighbor of the Hotel Pausania. It's also on the Fondamenta Gherardini near the Campo San Barnaba, where it offers traditionally-furnished rooms, a garden, and free Wi-Fi.
If you have rolling suitcases, it may be easier to walk along the Zattere to a hotel in the eastern part of Dorsoduro. The distance may be a little greater than heading inland, but you'll encounter fewer bridges and are less likely to get lost. These hotels are also convenient to the Zattere stop of the Alilaguna airport boat's Blue Line:
Ca' San Trovaso (2-star equivalent) is just inland from the Zattere. Singles, doubles, and triples are available, and rates are a bargain by Venice standards even during high season.
Hotel La Calcina (3 stars) is the inn where John Ruskin stayed in 1876. Ruskin picked it for the same reason that today's tourists do: A site directly on the Zattere, overlooking the Giudecca Canal and the ships that pass by.
Pensione Seguso (2 stars) is also on the Zattere, where it offers traditionally-furnished single and double rooms. (Most rooms have bathrooms down the hall, but don't let that discourage you: An English shipmate on L'Austral told us that she always stays at the Pensione Seguso because of its cleanliness, old-fashioned atmosphere, and charm.)
Other hotel tips for San Basilio:
If you don't mind wrestling your suitcases aboard a crowded public waterbus, you can stay at any hotel near the No. 2 vaporetto line and take the boat to the San Basilio stop, which is at the base of the Zattere next to the port. For example, you could stay at one of the Piazzale Roma hotels in this article (which are convenient to the ATVO airport bus) or near the San Zaccaria vaporetto stop above the Piazza San Marco. Both locations served by the No. 2 vaporetto line.

If you do have quite a bit of luggage, it may be easier to stay near the Piazzale Roma and get a taxi to the pier. (Again, see our page of Piazzale Roma hotels..)

Finally, the Hilton Molino Stucky Venice is worth considering if you don't mind a boat ride across the Giudecca Canal and have money or Hilton loyalty points to burn. (The Molino Stucky is almost directly opposite the San Basilio pier. From the hotel, a free shuttle boat runs to the Zattere, where you can turn left and follow the waterfront promenade to the cruise terminal with one bridge along the way.)
Next page: Hotels near the Zattere (for all piers)
---
---
---
---
---