---
---
Venice Islands Tour
Page 4
Continued from Page 3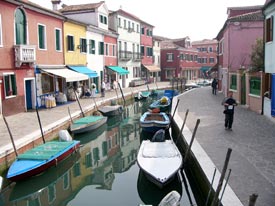 ABOVE: Brightly painted houses are reflected in a Burano canal. INSET BELOW: A chimney on Burano.
Burano

The island of Burano lies in the northern part of the Venetian Lagoon, about 40 minutes from Venice by motorboat. It has a much different atmosphere from Murano or Venice's historic center, thanks to the Buranese custom of painting houses in bright colors--a tradition that may have had its origins in the color schemes of local fishing boats. Everywhere you look, you'll see houses clad in blue, green, pink, rose, lavender, purple, yellow, and other colors. And because Burano's houses tend to be small, the island has a cheerful coziness. It wouldn't be surprising if Burano were used as a model for a family resort at Disney World.
Fishing is one traditional occupation of the Buranelli; the other is lacemaking. If you haven't spent your souvenir budget in the glass shops of Murano, you may find it hard to leave Burano without a supply of doilies and table linens or a wedding dress. (One word of caution: True Venetian Point lace is in limited supply, and many items in the shops are imported or machine-made.)
A "must see" attraction on Burano is the Museo del Merletto, or Lace Museum, in the old Scuola di Merletti or lacemaking school. The small two-story museum has impressive displays of historic and contemporary lace designs. If you're lucky, you'll find a group of Buranese women (mostly older ladies) wielding their needles in a sewing circle upstairs, near the display of traditional lacemaking implements. (Closed Tuesdays.)
Roman Catholics and lovers of solitude may enjoy a side trip to the monastery island of San Francesco del Deserto, where the nine Franciscan monks welcome visitors from 9-10 a.m. and 3-5 p.m. daily. The island is 20 minutes by rowboat from the Burano waterfront. (A gondolier does the rowing.) For more information, or to book an overnight stay, call the monks at 041 528 6863 when you're in Venice.
How to reach Burano:
Board the ACTV's Line 12 boat at Fondamenta Nove in Venice or the Faro stop on Murano. From Faro, it's a 33-minute trip to Burano.
Also see: Aerial Venice - Burano on our main site
Next page: Mazzorbo
---
---
---
---
---