---
Frequently Asked Questions (FAQ)
From: Venice Railroad Station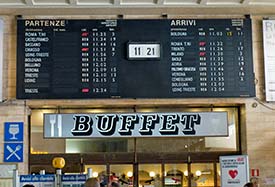 "Does the station have food and shopping?"
Yes, it has both.
Food. When you're hungry, or if you want food for the train, look for the "Buffet" sign under the electronic arrival and departure board or the doors on the left side of the station building as you approach from the train platforms.
The Buffet area has a self-service restaurant with booths, a stand-up bar, a pizza counter, and kiosks for sandwiches, pastries, fruit drinks, ice cream, etc. You'll also find cases of bottled water and other take-out beverages. For most purchases, you'll pay at the central Cassa or cashier desk.
Shopping. Shops in Venezia Santa Lucia station carry everything from Murano glass vases and souvenir trinkets to Italian editions of dolls and toys such as "My Little Pony." You can buy English-language newspapers at the newsstand.
Next page: FAQ: Disabled travelers
---
---
---
---
---