---

---
Venice Railroad Station Hotels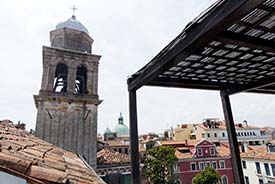 ABOVE: The Hotel Ai Due Fanali is about five minutes from Venice's Santa Lucia Railroad Station, on the only campo in Venice that faces the Grand Canal. In nice weather, you can have breakfast on a rooftop terrace.
In many cities, hotel districts near railroad stations can be depressing, and sometimes they're even dangerous. Not so in Venice: The streets near Santa Lucia Railway Station may be busy and geared to tourists, but the atmosphere is pleasant enough, and the convenience is hard to beat if you're spending only two or three days in Venice.
Most of the several dozen hotels in this article are on or near the Rio Terà Lista di Spagna (usually shortened to "Lista di Spagna"), the first segment of the main pedestrian thoroughfare between the station and the Piazza San Marco.
The Lista di Spagna is a lively place of hotels, restaurants, and souvenir shops, but you'll also find plenty of businesses that serve local residents. And when you get tired of looking at souvenir t-shirts or carnival masks, you can cross the Cannaregio Canal to explore the Venetian Ghetto and the many local shops, restaurants, and cafés along the connecting streets that feed into the Strada Nova.
Best of all, you can reach the hotels in this area without crossing bridges--a great convenience if you're using a rolling suitcase.
We've also included a page of hotels across the Grand Canal. These hotels require crossing a bridge (or, in some cases, several bridges). Choose them if you're looking for a less "touristy" neighborhood or if you want to be close to the Piazzale Roma for an early airport or cruise departure.
Please note:
Many of the links in this article will take you to pages at Venere and Booking.com, our two discount booking partners, which we use for our own hotel stays in European cities.

You can book a room at the hotel counter in the railroad station, but you'll probably have to wait in a long line, and hotels with vacancies may be hard to find or difficult to reach with heavy luggage.

The area near the railroad station is about a half-hour walk from the Piazza San Marco. To reach the piazza, head away from the station along the Lista di Spagna, cross the Cannaregio Canal, and follow the yellow "San Marco" signs or the daytrippers who'll be headed in the same direction. Or use the vaporetto; see our Venice Vaporetto Water Buses article for more information.

Through express trains from other Italian cities typically use the Venezia Mestre railroad station in Mestre, a suburb on the Venetian mainland. Our Mestre Hotels page describes several good, moderately-priced hotels that face the station or are within walking distance.
Next page: Hotels near the station (3- and 4-star)
---
---
---

---
---

| Europe for Visitors - Home |
| Advertising, audience, disclosures, contacts |

Copyright © 1996-2016 Durant and Cheryl Imboden. All rights reserved.