---
Venice Tourist Travel Cards
If you've read our Venice Vaporetto and Bus Fares article, you know that single waterbus fares for tourists are outrageous: They're nearly six times the fares paid by local residents and long-term sojourners.
Fortunately, the ACTV--Venice's local transit authority--offers Tourist Travel Cards that can reduce the financial pain of riding the city's vaporetti and motoscafi. These electronic cards allow unlimited travel on ACTV water and land buses for 12 hours, 24 hours, 36 hours, 48 hours, 72 hours, or 7 days, depending on which version you buy.
(Also, a 3-day "Young Person's Travel Card" for tourists between the ages of 14 and 29 is available in combination with the Rolling Venice Card. It's a good value, especially if you're staying at the Venice Hostel on Giudecca.)
BELOW: The front and back of an ACTV Tourist Travel Card.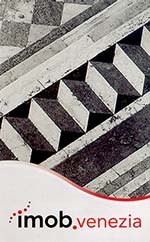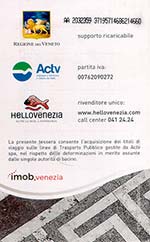 Here's our advice on using ACTV's Tourist Travel Cards:
Don't buy more time than you need. Venice is compact and pedestrian-friendly, so you shouldn't need to ride the vaporetto very often unless you're visiting outlying islands (such as the Lido, Murano, Burano, and Torcello) or have limited mobility.

Consolidate your excursions. For example, if you're planning to visit Murano's glass factories and take a ride up the Grand Canal, buy a 12-hour Tourist Travel Card and make both trips in the same day.

Follow the card's instructions. When you're riding a water bus, hold the card close to the white iMob electronic cardreader at the entrance to the vaporetto platform until you hear a beep. On land buses, the iMob device is usually inside the bus. (If you see a green card reader, ignore it--the green readers are for checking stored fares and can't be used to validate rides.)

Be aware of the card's limitations. ACTV Tourist Travel Cards are not valid on ATVO airport buses or Alilaguna airport boats.
Other tips:
The clock doesn't start ticking on your Tourist Travel Card until you scan or swipe it the first time, so you can buy the card before you plan to use it. (The card is valid for a full 12 hours to seven days from the first scan, depending on how many hours or days you've purchased.)

You can check how much time is left on your card by holding it up to the iMob reader and pressing the "?" button.)
For current ACTV Tourist Travel Card prices, see our Venice Water and Bus Fare Tables.
Other tips:
The "long-term stay" version of the Venezia Unica stored-value "city pass" (formerly called imob.venezia) can be a great bargain if you're staying in Venice for a while or plan to visit the city again in the next several years. The card allows visitors to buy heavily-discounted resident fares.

If you're buying the "tourist" version of the Venezia Unica stored-value city pass, you can have your Venice Tourist Card fare loaded onto the pass.
---
---
---