---

---
Venice Airport Boat (2017)
Page 2
Continued from page 1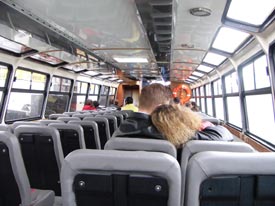 ABOVE: A couple enjoys a snuggle during the Alilaguna boat ride to Marco Polo Airport.
Buying tickets and boarding boats
After you've claimed your baggage, leave the terminal building and go left on the sidewalk outside the building. Near the end of the sidewalk, to the left of the doors, you'll see a sign for Alilaguna boats and water taxis. Follow the sign and take the moving sidewalk to the piers.
See the Alilaguna link below for current timetables.

(Most routes operate at one-hour intervals, but you can kill time in the café by the pier if you've got a long wait for the next boat.)


Normally, you buy your tickets at the Alilaguna booth by the pier. (The public-transportation counter in the arrivals terminal also sells Alilaguna tickets.)

If the ticket booth is closed, not to worry: You can pay the conductor on the boat for a small surcharge.
A note about luggage
When you board the boat, the conductor will take suitcases and stow them for you. At the end of the ride, get off the boat and wait for the Alilaguna staff to unload suitcases onto the pier.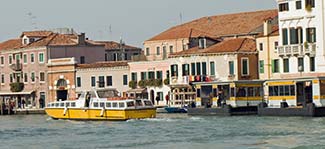 Official timetables
Alilaguna
Check the airport boat's site for current timetables, fares, a route map, and other information.
ACTV
Venice's public transportation system offers route maps, timetables, and other water and land bus information online. (Please note that ACTV is a separate operation from Alilaguna, with its own tickets and fares.)
Related articles
Venice Marco Polo Airport
VCE has a new terminal and flights to cities on four continents. Best of all, it's just 6 km (4 km) from Venice's historic center by boat, taxi, or bus.
Venice Airport Buses
If you decide against the boat, here's how to take the ACTV city bus or ATVO airport bus to the Piazzale Roma.
Arriving in Venice
Tips on reaching the city center from the railroad station and mainland highways, together with abridged information on the airport boat.

QuickVenice Hotel Guide
Our smartphone-friendly companion site, QuickVenice, includes pages for hotels near the airport, hotels that are convenient to Alilaguna airport boats, and hotels near the Piazzale Roma (for airport buses).
Back to: Venice airport boat (Alilaguna) - Page 1
---
---
---

---
---

| Europe for Visitors - Home |
| Advertising, audience, disclosures, contacts |

Copyright © 1996-2017 Durant and Cheryl Imboden. All rights reserved.