---
---
Venice Airport Boat
Page 2
Continued from page 1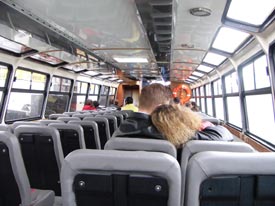 ABOVE: A couple enjoys a snuggle during the Alilaguna boat ride to Marco Polo Airport.
Buying tickets and boarding boats
After you've claimed your baggage, leave the terminal building and go left on the sidewalk outside the building. Near the end of the sidewalk, to the left of the doors, you'll see a sign for Alilaguna boats and water taxis. For pictures and details, see our illustrated step-by-step directions to the Alilaguna water bus and water taxi piers, which are 7 to 10 minutes from the terminal.
See the Alilaguna links on page 3 for current timetables. (Most routes operate at one-hour intervals, but you can kill time in the café by the pier if you've got a long wait for the next boat.)


Normally, you buy your tickets at the Alilaguna booth by the pier. (The public-transportation counter in the arrivals terminal also sells Alilaguna tickets.) If the ticket booth is closed, not to worry: You can pay the conductor on the boat for a smal surcharge.
A note about luggage
When you board the boat, the conductor will take suitcases and stow them for you. At the end of the ride, get off the boat and wait for the Alilaguna staff to unload suitcases onto the pier.
Next page: Related articles and Web links
---
---
---
---
---