---

---
Venice Carnival -
Carnevale di Venezia
Page 3
Continued from page 2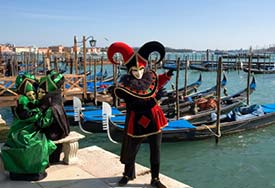 Practical advice
No special preparations need to be made for Carnival, except to book a room or apartment well in advance (see our Venice Hotel Guide) and bring enough money for high-season prices and a costume or mask. It's unwise to stay outside the city and commute to the festivities, since traffic is heavy and the police have been known to block the causeway from the mainland as a deterrent to overcrowding.
Web links
Venice Travel Blog: Carnival
Maggie in Venice: Carnival
These sections of our Venice Travel Blog and Maggie in Venice dog blog have captioned photos, obervations, and first-hand reports from the Carnevale di Venezia.
Carnevale di Venezia
The official Carnival site has a calendar of events and other useful information. (Note: This site is most useful immediately before and during Carnevale.)
Back to: Venice Carnival - Introduction
---
---
---
---

---
---

| Europe for Visitors - Home |
| Advertising, audience, disclosures, contacts |

Copyright © 1996-2017 Durant and Cheryl Imboden. All rights reserved.