---

---
Venice Water Taxis
Page 2
Continued from page 1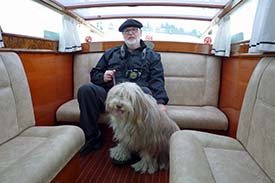 ABOVE: Maggie, the star of Maggie in Venice, poses inside a Venice water taxi with a member of her posse.
How to hire a water taxi

At Venice's Marco Polo Airport, you'll find a water-taxi ticket booth near the end of a covered walkway from the arrivals hall. See our illustrated step-by-step directions to the Alilaguna airport boat and water taxi piers. (Another option is a shared Airport Link water taxi, which is considerably cheaper than a private water taxi but double the price of the Alilaguna boat.)
At the Venice Santa Lucia Railway Station, the Piazzale Roma, and the Trochetto parking island, water taxis are down by the water.

In Venice, you can summon a water taxi by phoning the Consorzio Motoscafi Venezia at 041 522 2303 (24 hours a day) or e-mailing [email protected] Ask for a fare quotation before booking. (The Consorzio is a cooperative of water-taxi operators, with a fleet of more than 100 boats at its disposal.)
Warnings:
If you hire a water taxi through your hotel concierge or a travel agent, ask for a fare quotation before booking. Mark-ups can be outrageous. (We've heard of American travel agents charging US $150 per person for an airport transfer by water.)

Licensed water taxis have a yellow stripe with a license number. Be cautious in dealing with unlicensed taxi operators (especially on the parking island of Tronchetto, where crooks posing as "official" water-taxi drivers prey on unsuspecting tourists).

If you're getting a bit creaky or aren't used to small boats, be aware that boarding or disembarking from a water taxi at high or low tide can be tricky. See "A Warning about Water Taxis" in our Venice Travel Blog for more details.

For a virtual trip by taxi acqueo, see our Venice Travel blog video post, "A Water Taxi Ride to Venice Airport."
Back to: Venice Water Taxis - Page 1
---
---
---
---

---
---

| Europe for Visitors - Home |
| Advertising, audience, disclosures, contacts |

Copyright © 1996-2016 Durant and Cheryl Imboden. All rights reserved.