---
---
Venice Water Taxis (2016)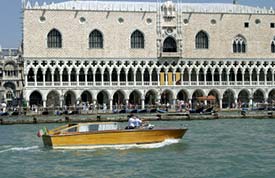 ABOVE: A water taxi passes the Palazzo Ducale, or Doge's Palace.

Water taxis are the limousines of Venice: With their spacious leather-upholstered cabins, open-air seating in the stern, and private captains to chauffeur you up the Grand Canal or on a high-speed run between the airport and your hotel, they offer an experience that you won't forget in a hurry.

Unfortunately, you won't forget the price in a hurry, either: The fare between Marco Polo Airport and a hotel in central Venice averages €110 or more, depending on location. A trip within the historic center can easily cost €40 to €70, depending on distance, time of day, and whether you've hired the water taxi at a pier or requested an aquatic cab by telephone.

Still, water taxis can hold up to 10 people, depending on the size of the boat, and the cost per person can be reasonable if you're splitting the fare with family or friends.
Water taxis are also faster than public airport transportation, since you don't have to transfer to a vaporetto or walk a long way to your hotel when you arrive in the city. (Figure 25 to 30 minutes for the trip between Venice Marco Polo Airport and a waterside hotel in the city center.)
Next page: How to hire a water taxi
---
---
---
---
---
---