---
San Giuliano Parking
Page 2
Continued from page 1
Public Transportation
ACTV Line 21 boat
The Linea 21 water bus (formerly line 25) runs between the Parco San Giuliano and two vaporetto stations in Venice: Fondamente Nove and Ospedale. Both stations are on the northern or lagoon side of Venice's historic center, within easy walking distance of the Piazza San Marco. (See the "Venice satellite map" on page 3.)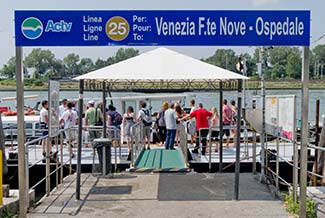 ABOVE: An hourly water bus between San Giuliano and Venice's historic center runs from morning until mid-evening.

You can buy boat tickets at the cashier's booth in the parking lot. The fare depends on your age, whether you're traveling one way ("ordinario") or roundtrip ("A/R"). You'll get a discount if you're parking in the lot or have an imob.venezia card. You may even be lucky, as I was, and be charged a random fare that's less than the published tariff.
After you've purchased your ticket, turn left as you leave the lot and walk toward the boat clubs that are just down the road. You'll see the Line 21 boat landing on your right (as shown in the photo at the top of this page.) Stamp your ticket before boarding or--if it's handwritten on a parking receipt, as mine was--show it to the boatman.
The trip to Venice's Fondamente Nove takes 24 minutes, and it's another three minutes to Ospedale. For more information in Italian, including a current timetable, see the official Boat San Giuliano Web site.
Please note:
ACTV Tourist Travel Cards and Venice Connected passes are not valid on this route.

"Fondamente Nove" is a Venetian dialect spelling. On your map, it may be spelled "Fondamente Nuova" or "Fondamenta Nuova." For more information about Venice's often-confusing signage, see the "Venice Street Signs" article on our main site.

The Linea 21 timetable signs at the Fondamente Nove and Ospedale boat stops in Venice are incomplete and confusing. The boats stop at Fondamente Nove in both directions. Again, see the Boat San Giuliano Web site for a current timetable.
Buses

Several ACTV bus lines connect Venice to the western end of the Parco San Giuliano, near the Red and Blue parking lots. Unfortunately, these buses aren't convenient for two reasons:
Except during nighttime hours, you can't buy a ticket on the bus. You'll need to purchase tickets at a Hellovenezia office or another authorized agent, such as a tobacconist or a newsstand, before boarding.

Most of the bus lines stop at the Parco San Giuliano only on the way to Mestre from Venice, not on the way to Venice from Mestre.
Still, if your car is parked in the yellow lot and you miss the last boat from Venice, you can use ACTV's Linea 12 bus as a backup:
Go to the Piazzale Roma in Venice, buy a ticket at the Hellovenezia office, and catch the number 12 bus to the Parco San Giuliano.

When you get off the bus, walk 20 minutes or more to the far end of the park, where the yellow lot is located. (See "Parco San Giuliano Maps" on page 3).
Next page: San Giuliano Maps
---
---
---
---
---