---

---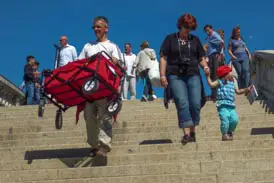 ABOVE: Venice has more than 400 footbridges. To avoid them, see our "How Many Bridges to Cross" hotel listings.
Our No. 1 Warning!
We hope you'll forgive the scary headline, and we don't want you to start your trip planning on a negative note, but we aren't kidding. We really do have a "No. 1 Warning" for visitors to Venice, and here it is:
Don't pick a hotel in a location that's inconvenient or expensive to reach!
Hotel location may not be critical in most cities, but in Venice--a city with 400+ footbridges and outrageously expensive public transportation--the wrong location can be frustrating and costly.

To minimize pain and suffering, your hotel selection should be a two-step process:
First, decide where you want to stay. (Our tips below will be helpful.)

After you've picked a district or neighborhood, you can narrow down your hotel possibilities by price, hotel ratings, user reviews, how many bridges you'll need to cross with your luggage, etc.
Now for some specific suggestions:
If you're in Venice for only two or three days, stay near an Alilaguna airport-boat stop, the Santa Lucia Railroad Station, or the Piazzale Roma (airport buses and land taxis).

You'll waste less of your vacation time getting to and from your hotel, you'll avoid long ticket lines at vaporetto stops, and you'll save 14 euros per person in waterbus fares.

If you're loaded with luggage, we also recommend staying at a hotel near the Piazzale Roma (airport buses and land taxis), the Santa Lucia railroad station, or an Alilaguna airport boat stop.

Venice's narrow streets can be crowded during the tourist season or on weekends, and hauling large bags up and down the steps on bridges is a nuisance--even when you're young and fit.

If you're arriving or departing on a cruise ship, stay at a hotel near the Piazzale Roma (Marittima terminals), the San Basilio pier, or--less conveniently--the Piazza San Marco, where you can catch an Alilaguna Blue Line boat to the Marittima basin.

(Murano, the glassmaking island, is another possibility for Marittima passengers.)

We discuss these and other options in our article about Venice Cruise Terminal Hotels.

If you're flying out of Venice Marco Polo Airport (VCE) before 10 a.m., see Early-Morning Flights from Venice Airport.

If you've got mobility problems, stay at a hotel that's easy to reach on foot, or you may find yourself struggling up and down the steps of pedestrian bridges.

(See our Accessible Venice Hotels article, or browse our "How Many Bridges to Cross?" Hotel Listings for hotels that are within 0, 1, or 2 bridges of public transportation.)

If you're sleeping in Mestre, on the mainland, choose your hotel carefully so you'll be in downtown Mestre--within 10 to 12 minutes from Venice--instead of being trapped in an isolated, depressing motor inn on the road to the airport.

(See Mestre-Marghera Hotels for specific recommendations.)

Consider storing some of your luggage if you're "traveling heavy" and insist on staying at a hotel that requires a long walk over multiple bridges or a vaporetto ride.

Our Left Luggage (Baggage Storage) article describes Deposito Bagagli offices at Venice Marco Polo Airport, the Santa Lucia Railroad Station, and the Piazzale Roma (where land taxis and airport buses arrive).

Don't let someone else make a booking decision for you! If a travel agent, airline, or other resource has already booked you into an inconveniently-located hotel, cancel the reservation and make your own hotel decision--unless you're stuck with a prepaid, non-cancellable booking.

(We've had e-mails from readers who were booked into "Venice hotels" that turned out to be 30 to 60 minutes away in small towns on the Italian mainland.)
Here are two final--and important--pieces of advice:
For more detailed tips on where to stay, see our smartphone-friendly Venice Hotel Guide. And while we'd obviously love it if you booked your hotel through the links in our hotel tools and articles, we hope you'll heed our No. 1 Hotel Warning even if you find a room by other means.
Durant and Cheryl Imboden
Venice for Visitors
---
---

---
---

| Europe for Visitors - Home |
| Advertising, audience, disclosures, contacts |

Copyright © 1996-2016 Durant and Cheryl Imboden. All rights reserved.