Venice General-Interest Sites
From: Venice Links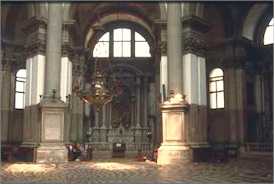 ABOVE: Interior of Santa Maria della Salute Church.
Venice Tourist Board
The APT Venezia has "Discovering Venice" itineraries, an events calendar, and other useful tools for visitors. (Click "English Version" to leave the default Italian-language pages.)
In Venice Today
Much of this site consists consists of links, but the Curiosity section is definitely worth your time, and so is the extensive photo tour. The Museums/Exhibitions section lists opening hours, times, and current exhibitions.
VeniceWord International Media Services
Besides providing news coverage for events and organizing conferences, this Venice-based firm supplies general tourism advice on its Web site.
VeniceBlog
Norman Hajjar's well-written blog claims to be the "only Venice-focused blog in existence," and it's a good source of news and other timely reports from Venice.
VeniceBanana
This site's English-language pages include maps, travel tips, lists of special events, a handy list of gelato parlors, and more.
Venetia
This Web site's "Piazza San Marco Virtuale" is an interactive map with links to monuments, shops, musems, cafés, etc. The entire Venetia site is indexed for handy navigation.
MeetingVenice
Business listings and convention planning are this site's main strengths. The events calendar is also useful.
Venice Convention Center
The Centro Congressi di Venezia caters to groups of every kind, ranging from the Venice Film Festival to conferences of scientists and insurance brokers. (This site will open in a new browser window.)
---
---