Europe > Cruises > Insight Cruise Guides
Insight Cruise Guides
Book Review (Archived)
by Durant Imboden


Great River Cruises:
Europe & The Nile
Insight Guides
Paperback, 368 pages
APA Publications
US $23.95
UK £16.99
Mediterranean Cruises
Insight Guides
Paperback, 379 pages
APA Publications
US $22.95
UK £16.99
Most cruising guides are designed for people who are interested in cruising, not for travelers. They're great at helping you compare cruise lines and ships, but they seldom have much to say about ports of call--which means they're next to useless in selecting a "port-intensive" cruise itinerary of the kind described in our article, Tour Europe by Ship.
Insight Guides are different: Great River Cruises: Europe & The Nile and Mediterranean Cruises focus more on places than on transportation, and they're also visually stunning. If you're thinking about a port-intensive cruise on Europe's rivers or the Mediterranean, either of these books will help you with your planning.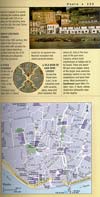 Great River Cruises: Europe & The Nile is my favorite of the two books, if only because it covers a topic--river cruising--that gets short shrift from most cruising guides. The opening chapters of the book include an illustrated history of river and canal cruising, a guide to Europe's river-cruise companies, and "An A-Z of River Cruising" that tells what to expect on river vessels and barges. The remaining sections of the book are organized by river and region, with detailed descriptions of major ports of call, historic sights, and scenic highlights. Maps and practical information ("orientation," "getting around," "business hours," "excursions") add to the book's value as a planning tool.
Mediterranean Cruises applies the Insight format and style to ocean cruising in Southern Europe, Tunisia, and Morocco. The book opens with introductory chapters on the Mediterranean and a history of cruising in the Med, then goes on to discuss the practicalities of cruising (including an "A-Z" section), cruising under sail, and other topics. Most of the remaining 200+ pages are filled with descriptions of major and minor ports, organized by region or country. Photos and maps please the eye, and practical advice (such as "arrival and around the dock" or "getting to Pisa and Florence") make the book helpful for independent travelers who like to plan their own shore excursions.
Both Insight Guides are well-written, visually sumptuous books that will appeal to English-speaking travelers from any country.