Hurtigruten
Page 3
Continued from page 2
By Durant Imboden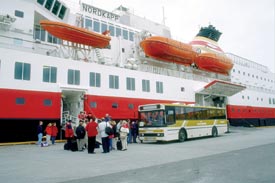 ABOVE: The Nordkapp's built-in adjustable gangway speeds embarkation and departures. It's also wheelchair-accessible.
Ships
Hurtigruten ships are similar to the ferryliners or cruise ferries that connect maritime nations throughout Europe. Unlike other ferries, however, they emphasize cargo rather than cars. Even the largest ships on the line carry only 50 vehicles, and most of the cargo space is devoted to freight. The newer ships have car elevators, pallet lifts, and conveyor belts for quick loading and unloading.
Passenger areas are mostly above the cargo decks. In effect, a Hurtigruten vessel is a cruise ship on top of a freighter.
The Hurtigruten fleet has three ship categories:
Millennium Ships. The MS Finnmarken and Trollfjord, which entered service in 2002, offer 643 and 674 cabin passengers respectively. Both ships have 50 percent more deck space and 40 percent more berths than the New Ships (see below). Suites are available--some with balconies and Jacuzzis--and so are gyms. The Finnmarken even has a swimming pool.
New Ships. The Kong Harald, Nordlys, Nordkapp, Nordnorge, Polarlys, and Richard With were built between 1993 and 1997. These vessels have 464 to 490 berths and, like the newer Millennium Ships, are built to Hurtigruten's "cruise standard."
Mid-Generation Ships. The Midnatsol, Narvik, and Vesteralen have berths for 312 to 325 passengers and are less than half the size of the new Millennium vessels. These ships, which were built in the 1980s, are gradually being replaced by Millennium Ships and will no longer be in the fleet after 2005. (Their predecessors, "Traditional Ships" from the 1960s, were retired in 2002.)
All Hurtigruten ships are one-class vessels with dining rooms, cafeterias, bars, and lounges for smokers and non-smokers. On each ship, a Panoramic Lounge lets passengers enjoy Norway's coastal scenery in wet or cold weather. Other amenities include conference rooms, elevators, and a limited number of wheelchair-accessible cabins.
>> Page 4 - Cruise experience
---
---