Hurtigruten
Page 4
Continued from page 3
By Durant Imboden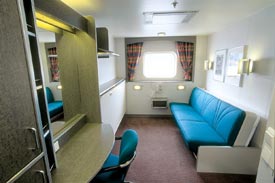 ABOVE: A cabin aboard one of Hurtigruten's "New Ships" from the 1990s. The couch converts into a bed; note the folded bed on the opposite wall.
The cruise experience
Hurtigruten promotes its journeys as "an alternative to the traditional cruise experience." The word "alternative" is worth noting, because a Hurtigruten itinerary is both more "real" and less resort-like than a voyage on a mainstream cruise line.
If you travel with Hurtigruten, you'll enjoy more than great scenery--you'll also have a distinctly Norwegian experience on a working ship that stops at dozens of small ports.
In summer, many of your fellow passengers will be well-heeled tourists from the U.S.A. and other countries, but you'll also encounter residents of Norway's coastal towns, school groups, backpackers, and business travelers--and you can leave your suit or cocktail dress at home.
You'll dine on Norwegian cuisine, feel clunks and vibration as cargo is loaded and unloaded during the night, and--if you wish--book affordably-priced shore excursions.
In short, a Hurtigruten cruise is a chance to travel along the western and northern coasts of Norway as Norwegians do.
Caveats:
Hurtigruten caters to locals and travelers, not to the type of cruiser who's looking for an American- or British-style cruise experience. Food choices are limited, cabins tend to be more functional than luxurious, the ships offer very little in the way of organized entertainment or activities, port calls are brief, and you won't find the level of pampering that you might expect on a traditional cruise ship in Hurtigruten's price range. If you prefer a resort-style cruise, check the Norwegian coastal itineraries that many luxury and mass-market cruise lines offer.
I haven't traveled on Hurtigruten, so this article should be regarded as a source of information, not as a testimonial. For a first-hand report by a travel writer who took a press cruise aboard the Finnmarken in May, 2002, see these cruise comments from Jana Jones.
>> Page 5 - Prices/packages
---
---