Hurtigruten
Page 5
Continued from page 4
By Durant Imboden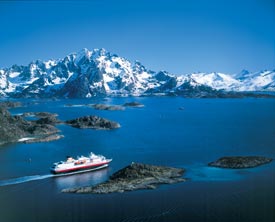 ABOVE: A Hurtigruten ship travels through the Raftsund Strait.
Prices
Hurtigruten cruises vary in price, depending on cabin category and time of year, but they aren't cheap. One-way fares are about 65 percent of the roundtrip fare northbound and 55 percent southbound. Single supplements are charged during high season.
Rates include three meals daily, taxes, and port charges. Tipping is not required. Passengers 67 years and older are entitled to reductions on most voyages, and AARP members get discounts on private cabins.
Port-to-port tickets
If you're short on cash, you can book deck-class passage on Hurtigruten's ships. This works best for short distances, because sleeping bags aren't allowed in lounges or on deck. Such fares don't include meals, so bring your own food or buy pizza, hot dogs, etc. in the ship's cafeteria.
Port-to-port transportation (with or without a cabin) is also handy if you're driving or traveling by train in Norway. For example:
Drive from Oslo to Stavanger via the southern coastal route, follow the roads and local ferry routes to Bergen, load your car aboard a Hurtigruten ship, then disembark in Trondheim and drive back to Oslo. (You'll need to book well in advance, since Hurtigruten's ships carry only 40 to 50 cars.)
Take the scenic train route from Oslo to Bergen, ride a Hurtigruten ship to Trondheim, explore the region by public transportation or rental car, then catch a train back to Oslo.
Hurtigruten doesn't advertise port-to-port sailings, but passage can be booked through Hurtigruten in Norway or its offices in the UK, France, Germany, Sweden, and the USA.
Packages
Hurtigruten offers a variety of cruise/land packages. For North American travelers, these include:
Independent vacations, which combine a cruise with transatlantic air fare, airport transfers and accommodations in Norway, train or air travel between Norwegian cities where appropriate, and other perks.
Escorted vacations, which add the services of a tour guide, a limited number of meals, and sightseeing.
Add-ons include "Fjord Enhancements" (Hardangerfjord or Sognefjord) and "Scandinavia Enhancements" on Silja Line, which operates luxury cruiseliners that connect Sweden, Finland, Germany, and Estonia. Click the Hurtigruten Web link on page 6 for more information.
Other tour companies offer their own Hurtigruten cruise/land packages in the U.S., Britain, and elsewhere; ask your travel agent for details.
>> Page 6 - Web links
---
---