Europe > Cruises > Hurtigruten (archived article) > 3
Hurtigruten
Cruises to Norway's North Cape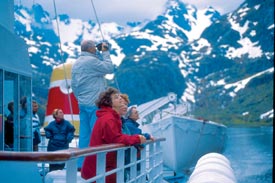 ABOVE: NCV / Hurtigruten ships travel through spectacular scenery on a 12-day cruise to the Arctic and back.
Archived article
By Durant Imboden
Hurtigruten (formerly called Norwegian Coastal Voyage and, even earlier, Bergen Line in the U.S. market) offers a journey of 2000 km or 1,250 miles from Bergen, on the West Coast of Norway, to the country's northern tip above the Arctic Circle.
Hurtigruten ships have carried passengers and cargo to Norway's most isolated coastal towns and villages since 1893. Eleven vessels provide year-round service to 34 communities, passing through some of Northern Europe's most spectacular scenery on the 12-day round trip. A Hurtigruten press release reads:
The constantly changing scene includes the fjord-indented coastline, the open sea and narrow straits, uninhabited islands, towering mountains and deep fjords, forests of pine and spruce, snowcappedpeaks, steep cliffs, farms on lush green hillsides, bustling towns, and colorful fishing villages.

Along the route are herds of reindeer and the North Cape, rising 1,000 feet above the ocean (a shore excursion); the Lofoten Islands; the Seven Sisters Mountains; Art Nouveau architecture in Alesund; the lively university town of Tromsø and its distinctive Arctic Cathedral; 1,000-year-old Trondheim and the country's oldest medieval church; and interesting shops and historic gabled warehouses in Bergen, a Viking and Hanseatic city.
Today's Hurtigruten experience is considerably different from that of 1893 or even the 1980s. The latest Hurtigruten ships offer cruise-line amenities such as swimming pools, gyms, glass-enclosed panoramic lounges, and even conference facilities. "The world's most beautiful voyage" has become "an alternative to a traditional cruise" with per-person cabin fares that range from approximately US $150 to $500 per day in high season. (However, there is a cheaper option; see page 5 for details.)
---
---
Photos and route map copyright © Hurtigruten. Used by permission.