Avalon Waterways
From: European Cruise Guide
---
---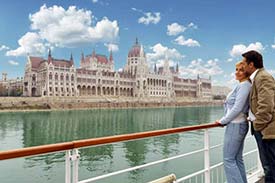 ABOVE: A couple enjoys the view from an Avalon cruise on the Danube. INSET BELOW: A stateroom and a junior suite's bathroom on the Avalon Artistry.

Avalon Waterways is a river-cruising line owned by Globus, a tour operator with more than 75 years of experience in Europe. Avalon focuses on the U.S. and Canadian market, with cruises on modern vessels built since 2009--including a rapidly-growing fleet of upmarket "suite ships" with extra-large cabins and beds that face windows.

Avalon's amenities include fitness rooms, free Internet access, and--in Royal Suites--complimentary iPads. Restaurants have open seating, and passengers are served wine, beer, or soft drinks at lunch and dinner without charge.
European cruise/land or cruise-only itineraries range from five to 24 days weeks in length, with travel on the waterways of Holland and Belgium, France, Germany, and Central Europe. Avalon also has a number of "special interest" cruises scheduled for 2019, with themes such as art, beer, food, gardens & nature, Jewish history, the Oberammergau Passion Play, music & jazz, and wine.
Cruise line's Web site:
---
---
Photos courtesy of Avalon Waterways.