Avalon Waterways
From: European Cruise Guide
---
---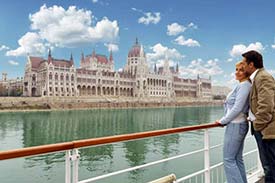 ABOVE: A couple enjoys the view from an Avalon cruise on the Danube. INSET BELOW: A stateroom and a junior suite's bathroom on the Avalon Artistry.

Avalon Waterways is a river-cruising line owned by Globus, a tour operator with more than 75 years of experience in Europe. Avalon focuses on the U.S. and Canadian market, with cruises on modern vessels built since 2009--including a rapidly-growing fleet of upmarket "suite ships" with extra-large cabins and beds that face windows.

Avalon's amenities include fitness rooms, free Internet access, and--in Royal Suites--complimentary iPads. Restaurants have open seating, and passengers are served wine, beer, or soft drinks at lunch and dinner without charge.
European cruise/land or cruise-only itineraries typically range from five days to more than three weeks in length, with travel on the waterways of Holland and Belgium, France, Germany, and Central Europe. Some itineraries have specific themes, such as "city cruises" or "gourmet cruises."
Cruise line's Web site:
---
---
Photos courtesy of Avalon Waterways.