Azamara Club Cruises
From: European Cruise Guide
---
---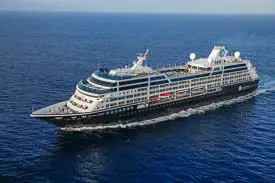 ABOVE: Azamara Quest at sea. INSET BELOW: An alfresco Valentine's Day buffet, and two chefs at work.

Azamara Club Cruises is a boutique subsidiary of Celebrity Cruises.

The line has two attractive 694-passenger ships, Azamara Journey and Azamara Quest, which are fairly small by today's standards. (We sailed on Azamara Quest during that ship's last voyage as the R7 of Renaissance Cruises, and we liked the vessel.)
In 2018, both ships are assigned to Europe from spring through fall, with 37 sailings in the Mediterranean and Baltic.
Every European cruise of more than seven nights offers a complimentary "AzAmazing Evening" shore event. (Past examples: A night at the ballet in St. Petersburg and a polo match with reception in St. Tropez.)
Please note: If you're the sort of person who likes to spend evenings ashore, Azamara may be a good fit. The line claims to have "more late-night and overnight stays" in ports than any other cruise operator.
Cruise line's Web site:
---
---