Carnival Cruises
From: European Cruise Guide
---
---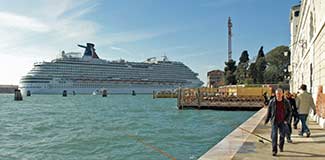 Carnival Cruises is the Coca-Cola of American cruising: Its family-friendly brand is a household name, it has more than two dozen ships, and it attracts new and experienced cruisers of all ages from all walks of life in the U.S. and Canada.
After a banner year in Europe during 2013, Carnival announced that it was pulling out of Europe because of high translantic air fares.
In 2018, Carnival will break its European hiatus with a small number of seven-, 10-, and 13-day sailings from Barcelona aboard a new 135,500-ton megaship, Carnival Horizon. The cruises will be followed by a two-week repositioning voyage from Barcelona to New York in early May.
Cruise line's Web site:
---
---