Compagnie du Ponant
From: European Cruise Guide
---
---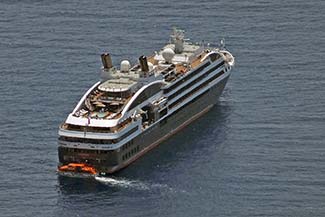 Compagnie du Ponant Yacht Cruises is a boutique cruise line owned by the world's third-largest container-shipping group. Although the Marseille-based company is relatively new to the English-speaking cruise market, it has served French cruisers since 1988, and its ships carry passengers to destinations around the world. (Today, about one-third of the company's guests are French, with the rest coming from other Continental countries, the UK, the United States, and elsewhere.)

Le Ponant is a three-masted motorsailer that accommodates 64 passengers in 32 staterooms, including three triple cabins and two with king-size beds. The large sun deck beneath the sails enhances the yachtlike ambiance.

Two pure motorships, Le Boréal and L'Austral, joined the fleet in 2010 and 2011 respectively. A third Boréal-class ship, Le Soleal, entered service in 2013, and another--Le Lyrial--was added in 2015. Each megayacht accomodates 224 to 264 passengers in 132 cabins and suites, most with private balconies. Amenities include six decks, a theatre, two restaurants, a beauty center, and programs for children.
In 2018, two slightly smaller vessels (similar in look to the L'Austral series) made their debut: Le Champlain and Le Laperouse, each with 92 cabins compared to the existing ships' 132. As of early 2019, another four ships were under construction or on the drawing board. These ships are known as the "Ponant Explorers" and cruise mostly to remote areas of the world.
European destinations and itineraries: In a typical year, Compagnie du Ponant offers nearly 100 cruises of varying lengths along the coasts of Northern Europe, Greenland, the Mediterranean, and the Iberian Peninsula.
Cruise line's Web site:
Cruise review:
L'Austral Adriatic Cruise from Venice
---
---