Cruise & Maritime Voyages
From: European Cruise Guide
---
---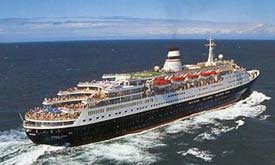 ABOVE: The Marco Polo, formerly the Soviet liner Alexandr Pushkin, at sea.
Cruise & Maritime Voyages is a privately-owned British cruise line. The company's original oceangoing ship in Europe is Marco Polo, a former transatlantic liner of Baltic Shipping Lines that entered service in 1965 and was rebuilt as a cruise ship in the 1990s. Other CMV ships include Astor, Astoria, Columbus, Magellan, and Vasco da Gama.
Nostalgia note: We crossed from Bremerhaven to Montreal on the Marco Polo, then named Alexandr Pushkin, in 1978. We were accompanied by our Old English Sheepdog, Muffin, and our Wire-Haired Fox Terrier, Yodel, who stayed in a large doghouse when they weren't enjoying the Sun Deck with the passengers and Soviet crew.
In 2020, Cruise & Maritime Voyages has an extensive calendar of cruises from London Tilbury and other British ports, Rotterdam, Dublin, Cobh, and Ringaskiddy (Ireland). European destinations include the British Isles, Scandinavia, the Baltic, and Southern Europe.
Cruise line's Web site:
---
---